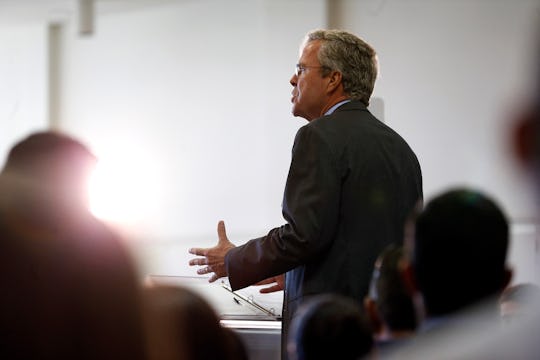 Brian Blanco/Getty Images
4 Things Bush's New "Jeb Can Fix It" Slogan May Be Too Late To Actually Fix
Former Republican front-runner Jeb Bush has long promised a course correction in his bid for the White House and apparently the time for it has finally arrived. Speaking to Chuck Todd on NBC's Meet The Press over the weekend, the former Florida governor admitted that the campaign has hit a "bumpy time" and outlined a new strategy to overcome its recent troubles. But will Jeb Bush's new, unsubtle slogan, "Jeb Can Fix It," actually help showcase the former governor's political strengths, or will it be simply too little, too late to actually help Bush claim the GOP nomination? 
And what exactly is Bush really trying to fix? The Bush campaign has been plagued with bad headlines and heavy criticism recently. After a poor performance in the third GOP debate and campaign layoffs due to budget shortfalls, the former Florida governor needs to send a strong message to donors and voters, for sure. Not to mention, while the Bush team has plenty to fix, the language they've chosen is a bit problematic. "Fixing it" is often associated with shady deals, cronyism, and the sorts of subversive tactics the man who was Florida's governor during the 2000 Bush-Gore election would probably want to avoid. 
It's an association that GOP rival Donald Trump made immediately. In a tweet on Sunday, Trump reacted to Bush's new slogan this way: "Jeb's new slogan - 'Jeb can fix it'. I never thought of Jeb as a crook! Stupid message, the word 'fix' is not a good one to use in politics!
To be fair, the slogan is likely meant to galvanize support around Bush's ability to solve what he sees as the country's biggest challenges. But the Bush team has chosen a message that unfortunately points more toward the things the campaign probably can't fix at this point. Here are four of the major issues Republican donors are probably hoping Bush "can fix" ASAP.
His Debate Performance
Bush has consistently fallen to the bottom of the list when it comes to debate performances. The candidate delivered a forgettable performance in the first debate and a disastrous showing in the third — who could forget that nasty exchange between Bush and Rubio in Boulder? Still, the GOP candidate admitted to Chuck Todd that there were areas where he might improve, but denied there was any real cause for concern.
His Lack Of Energy About The Race
Rival Donald Trump has chided Bush for his "low energy" when it comes to campaigning. GOP supporters in South Carolina got a taste of what Trump meant when Bush said the following during a campaign speech last week:
If this election is about how we're going to fight to get nothing done, then I don't want any part of it. [. . .] I've got a lot of really cool things that I could do other than sit around, being miserable, listening to people demonize me and me feeling compelled to demonize them. That is a joke. Elect Trump if you want that.
His Poll Numbers
Bush's poor performance on the biggest stage, his "unhappy warrior" demeanor, and his poor poll showings likely go hand in hand. After a short stint as front-runner at the very beginning of his candidacy, Bush has struggled to break through and offer real rivalry to political outsiders Donald Trump and Ben Carson.
His Financial Issues
Rumors that the Bush campaign was having financial difficulty came to a head last week as the campaign fired a top aide and instituted a 40 percent pay cut for all staff. Big money donors like to give to candidates who aren't on the ropes financially. Reducing staff doesn't send a clear signal that the Bush team is ready to ramp up its message and impact.
In his NBC interview, Bush said that he plans to use the new slogan to tout his leadership bona fides in a "Jeb Can Fix It" tour spanning Florida, South Carolina and New Hampshire — all early voting states — over the next several weeks. Also coming this week is a new e-book called Reply All, a collection of hundreds of emails sent and received on the major policy matters during his governorship.
Whether voters will read Bush's texting habits as the mark of the next president — or read them at all —  remains to be seen.
Here's a clip from the speech Bush delivered in Tampa on Monday to kick off the "Jeb Can Fix It" tour:
Images: Brian Blanco/Getty Images (3)