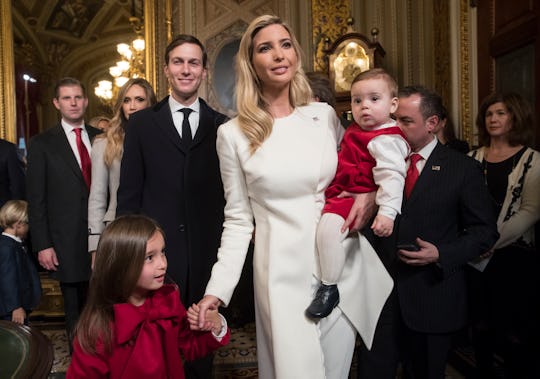 Pool/Getty Images News/Getty Images
A Breakdown Of Ivanka Trump's Child Care Plan
Ivanka Trump, daughter of President Donald Trump, called a meeting at the White House last week to discuss family-related tax benefits she and her father talked about on the campaign trail last fall. For one, she is calling for a deduction for child-care expenses — a policy point that could cost as much as $500 billion over the next decade. Though the "first daughter" doesn't have an official job in the White House or with her father's team, her husband, Jared Kushner, could serve as a senior adviser to the president, and her influence is felt by the American public. As a result, a major policy suggestion like this one is unlikely to be ignored. So it's probably a good time to break down the four things parents should know about Ivanka Trump's child care plan.
Ivanka has been an advocate for the concerns of working mothers in the past, and active in calling for things like better child care options and equal pay. She is a millennial, and has been profiled positively in the past. But with her powerful political and socioeconomic status, it can be hard for some young women to relate to her as a fellow millennial mom. Her advocacy for a federal childcare plan may win her points with some parents, even if it doesn't make it very far with Republican lawmakers.
The Cost
Ivanka Trump's plan is not an inexpensive one. According to Bloomberg, the plan could cost the federal government $500 billion over a decade. Wow.
That's quite the price tag, and one Capitol Hill might not back. Traditionally, costly measures like these are not popular with fiscal conservatives. But will Ivanka's support of the plan be enough to draw Republican favor?
The Beneficiaries
The proposed deduction would disproportionately assist wealthier families. Under the plan Ivanka has put forth, individuals earning less than $250,000 a year, and couples making less than $500,000, would be able to deduct childcare costs from their income-tax payments. Families that don't earn enough to pay income taxes would get a rebate added onto their earned-income tax credit.
That means the bulk of the benefits would be felt by more financially well-off families. According to Alan Cole, an economist with the Tax Foundation that Bloomberg spoke with:
The child care proposal is generous and broad; almost everyone with young children will get some benefit from it. However, the largest benefits will go to relatively affluent dual-income families using paid child care.
So much for helping working-class mothers and families.
The Discussion
Dialogue about the proposal is in its early stages. House Ways and Means Committee Chairman Kevin Brady said earlier this month that they've had "preliminary and very productive discussions" regarding making childcare more affordable, according to Vanity Fair.
Brady said the discussions are in the early stage and that the committee is "exploring a number of options." So there's a lot to be done and talked about before Ivanka's plan goes anywhere. It could be shot down entirely.
What We Don't Know
Little more is known about the particulars of Ivanka's proposal just yet. But we can take a guess at what policies might be included, based on an outline Trump released in September, according to Bloomberg.
Back then, Trump said his plan also would guarantee six weeks of paid maternity leave. This would only apply to employers that don't currently offer paid maternity leave. Could Ivanka's child care plan include a similar guarantee?
And how would that be paid for? The maternity leave plan would be "completely self-financing" by way of reducing fraud in the unemployment insurance program, the now-president said a few months back, according to Bloomberg.
It remains to be seen whether Ivanka's proposal will gain traction, and whether it would actually positively impact most families. Still, it's worth it to pay attention to her advocacy in this area, and to the White House's commitment to these concerns.