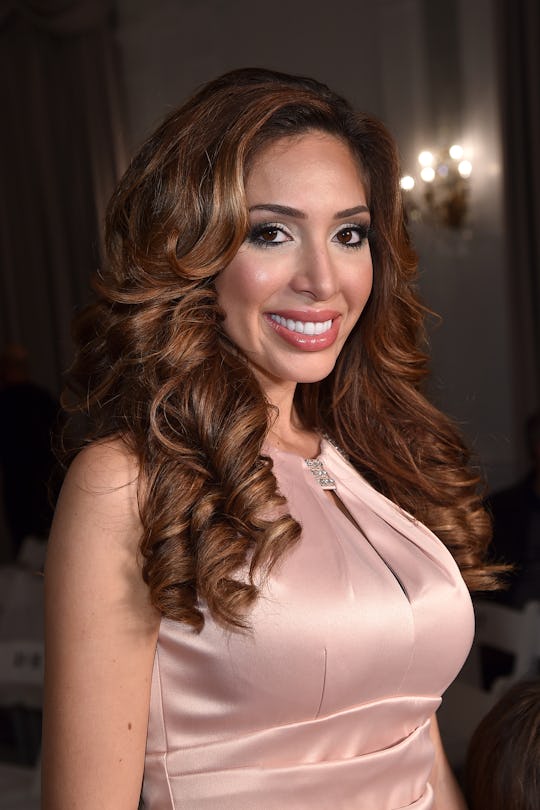 Jacopo Raule/Getty Images Entertainment/Getty Images
4 Times Farrah Abraham Responded To Critics For Her Parenting Choices
Teen Mom OG star Farrah Abraham seems to have a permanent place in the celeb news cycle. After the Aug. 22 season premiere, she's already getting media attention for a breakup, an engagement ring purchase, and an Instagram photo of daughter Sophia Laurent Abraham wearing a bikini. In the seven years since 16 and Pregnant premiered on MTV, Abraham's remained in the spotlight, often at the center of controversy. Four times Farrah Abraham responded to critics reveal how often the reality star has had to justify her parenting decisions to a global audience.
The season premiere of Teen Mom OG focused on Abraham's relationship with Simon Saran; according to Cosmopolitan, Abraham's mom, Debra Danielsen, and Saran fought during Sophia's birthday party about his reluctance to commit to Abraham. Now, it appears as though Abraham and Saran broke up. Abraham told Us Weekly that they ultimately weren't compatible, saying, "I mean I have been through a lot of s‑‑t relationships, so I just add another layer to my cake, really." The pain doesn't end with the split. Saran reportedly arranged for Abraham's diamond engagement ring purchase, which she bought with her own money. But, according to People, he never proposed and, after their breakup, left her with the bill.
Abraham is also getting attention for her decision to post an Instagram photo of her daughter in a bikini. It's not the first time Sophia's clothing raised concerns on social media: Yahoo! Beauty reported that Abraham's daughter modeled bikinis earlier in the summer. Of course, this is only the most recent buzz about the reality star's choices; Abraham's drawn criticism for a number of parenting decisions she's made over the years. Here's how she's responded to some of the biggest controversies:
Waxing Sophia's Eyebrows
One of Abraham's most talked-about moments occurred when she attempted to wax Sophia's eyebrows, according to Us Weekly. Abraham tried to use only wax, but she ultimately finished the job by tweezing her daughter's eyebrows while Sophia slept. On an episode of Bethenny, an audience member questioned the mom's decision to wax Sophia's unibrow, and Abraham responded by saying kids admired her decision, according to Us Weekly:
After that whole situation in the media, I actually got a lot of fan mail from girls who were younger, who did have unibrows, and they only wished that their moms would have helped them.
When the audience member said it was "crazy" that Abraham would let her daughter believe that she couldn't be pretty in photographs with a bit of a unibrow, Abraham answered by saying she would never communicate to Sophia that she's "not beautiful," and tried to use the fact that her daughter was asleep to justify waxing her eyebrows.
Approving Plastic Surgery For Sophia
Back in 2014, Daily Mail Online reported that Abraham said that she'd respect her daughter's choice to get plastic surgery if at some point in the future Sophia decided she was unhappy with an element of her appearance: "I have to say, we very much believe that we are pretty. We are secure people. But if there's something that she can't live with, then yes go for it." Even after Abraham's lip injections in early 2015 led to scary swelling, she reaffirmed her decision to allow Sophia to get a procedure done, according to In Touch Weekly:
If she validly wants something, that's not outlandish, and she envisions herself that way, well then, yeah I'm going to support that.... Hopefully by that time, I'll have like fifteen years or so, I'll be out with my PhD and my doctorate, and I will be able to help her clinically and personally. So I'm super supportive in that and I hope to help her in the best ways possible.
Sophia's $600 Gift From The Tooth Fairy
In July 2015, Abraham shared a photo on social media showing Sophia's gift from the Tooth Fairy after losing her two front teeth: a stack of six $100 bills. Though the dollar amount shocked parents on the internet, In Touch Weekly reported that Abraham felt the Tooth Fairy made the right call:
Losing your teeth should be something special, I like to add passion and something special to everything including loosing teeth.... These years are flying by and soon $600 won't be surprising to my daughter... so $600 for one tooth is a great addition to her college fund and lets her have a big surprise when she woke up that morning.
Sophia's Modeling Career
After Sophia's photo shoots, Abraham often posts her daughter's modeling photos on Instagram. Though the mom drew criticism for allowing her child to begin a modeling career at such a young age, People reported in July that Abraham defended her decision:
There's a lot of young children who do modeling, and everyone loves her pictures. I think because we're on Teen Mom OG, we get bad criticism, but Sophia's doing amazing in modeling, I couldn't be more proud of her – she's opening up her own children's boutique, we're selling clothing. So the more pictures and more she's in a positive light and happy with what she's doing, there's nothing wrong with embracing how awesome Sophia is.
Fans can follow Abraham and Sophia on MTV: new episodes of Teen Mom OG debut Mondays at 9 p.m. Eastern Time, with a special episode set to premiere Sunday, August 28 at 7 p.m. Eastern Time before the Video Music Awards.