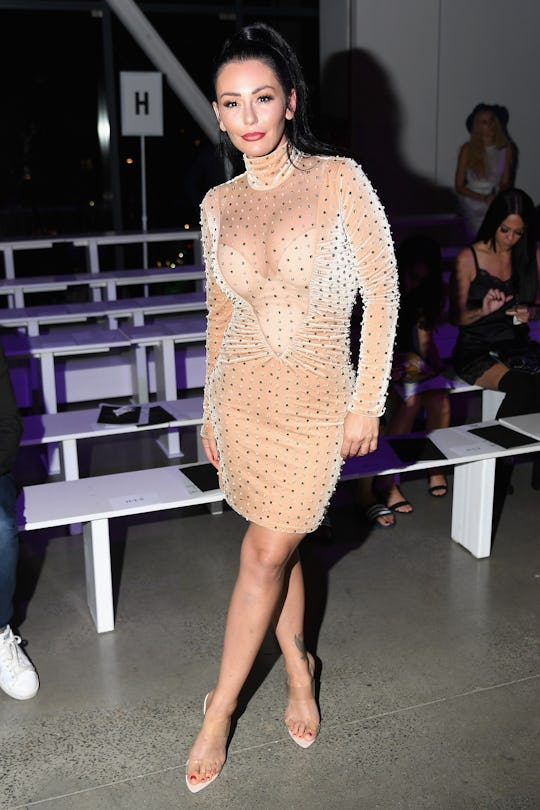 Nicholas Hunt/Getty Images Entertainment/Getty Images
4 Times Jenni 'JWoww' Farley Got Real About Motherhood Show She's Grown So Much
For those who haven't really kept up with the Jersey Shore crew since way back in the day, allow me to blow your mind: Many of them are now married and/or have children of their own. (I know, right?) So far, the Jersey Shore cast members who have kids include: Ronnie Ortiz-Magro, Pauly "DJ Pauly D" DelVecchio, Jenni "JWoww" Farley, and Nicole "Snooki" Polizzi. And let me tell you, parenthood is looking pretty good on these guys. In fact, these four times Jenni "JWoww" Farley got real about motherhood show she's grown so much since her infamous Jersey Shore days.
As a refresher, Jenni Farley has two children with her husband Roger Mathews — Meilani, 4, and Greyson, 2. When she's not filming for Jersey Shore: Family Vacation, the busy mom of two regularly updates her Instagram with adorable photos of her kiddos and all-too-relatable parenting moments. Judging by the MTV reality series reboot, Farley and her cast mates still know how to party. However, these days something else is much higher on her priority list — in the grand scheme of things: Her family. And so without further ado, here are four times "JWoww" got real about this whole motherhood business:
1. On How It's Changed Her As A Person
In an exclusive interview with OK! magazine in June, Farley opened p about how motherhood has changed her — for the better. "Having kids has completely changed my life. It's hard work, and being a working mom can be tricky as I hate being away from them, but everything I do is for my children," she said. "I've become a much less selfish person, and much more patient. They've made me a much better person. I don't even remember my life before them." Aww! Same, girl. Same.
2. On How It's Changed Her Relationship With Her Husband
Editor's Note: The Instagram post has since been deleted.
For many couples, parenthood has a way of driving them apart. (Because let's face it, caring for young children is stressful AF.) For "JWoww," however, it seems to be the opposite. "We have much more respect for each other now. Roger is so hands on with both of them it made me fall in love with him all over again," she told E! Online in 2016. "We also learned to talk through disagreements rather than be stubborn or argue. We don't want our children to see us fighting. We want them to learn how to talk through things and grow from the experience."
3. On Making Time For Yourself
During a May interview with People, both Nicole Polizzi and Farley opened up about prioritizing time for themselves since becoming moms. "Me and Jenni always stress that even though you are a mom, it doesn't mean you are dead," Polizzi explained. "I always say, you need to just get out once in a while and just find yourself and be you. I feel like that makes you be a better mom." To that, Farley added:
There is just this stereotype that Nicole and I love to shut down and prove that you can be a phenomenal mother, but at the same time you can find time for yourself and it's okay.
4. On Loving Your Children Unconditionally
As ET Online reported, Farley recently revealed in episode of Jersey Shore: Family Vacation that her youngest child, Greyson still isn't talking. The 2-year-old has been going to therapy three times per week as a result. Following this revelation about her son's speech delay, Farley thanked fans for their outpouring of support via Instagram. "To find out Greyson is 'behind' or 'delayed' crushed me... but only for a moment," she wrote on Aug. 24. "That moment came from wanting to have 'perfect children' and 'how could this happen to me?'... but Grey is PERFECT and it CAN happen to anyone."
I'm not going to lie — I never really cared much for Jersey Shore when it was at the height of its popularity. (Watching other people party and hookup just isn't my cup of tea.) However, it's difficult to argue that Jenni Farley hasn't grown significantly as person since this time in her life. And it's clear that becoming a mom has played a pretty big role in this transformation. Then again, we all change to a certain extent, don't we? But you have to admit, "watching" this TV personality evolve from her craziest of party days and blossom into this kick-*ss parent who would do anything for her kids has been a pretty cool to follow.