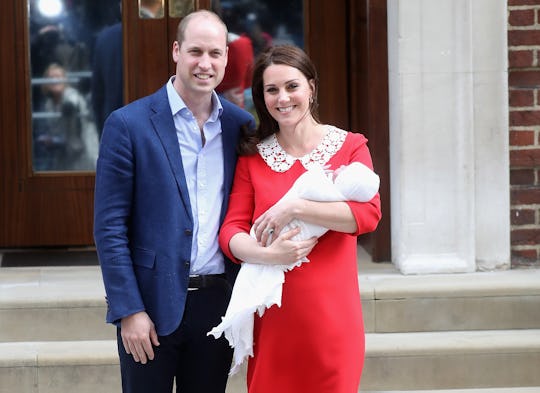 Chris Jackson/Getty Images Entertainment/Getty Images
4 Times Kate Middleton Paid Tribute To Princess Diana, & Kept Her Memory Alive
On Monday, Kate Middleton, the Duchess of Cambridge, gave birth to her third child and second son in the Lindo Wing at St. Mary's Hospital in West London. Not surprisingly, Middleton stepped out of the hospital looking absolutely flawless in a bright red dress. Many people have speculated that the Duchess' choice of hospital dress was in memory of Princess Diana, who was killed in a car crash in 1997. But that's not the only moment when Middleton channeled Prince William's late mother: Here four other times Kate Middleton paid tribute to Princess Diana.
Alongside her husband, Prince William, the Duchess of Cambridge walked out of the Lindo Wing wearing a red dress very reminiscent of the outfit Princess Diana wore when she presented William's brother, Prince Harry of Wales, to the world, according to People. On September 15, 1984 — Prince Harry's birthday — Princess Diana wore a loose, muted red dress that also featured a white Peter Pan collar, Cosmopolitan reported.
Middleton's Jenny Packham-designed garb had quarter-length sleeves and hit at about the knees, while Princess Diana's ensemble featured long sleeves and had more of a midi vibe. Still, there's no denying that the outfits are quite similar, and a fitting tribute to the late princess, who is still beloved not only by her family, but the world over.
After The Birth Of Prince George
After Princess Diana gave birth to Prince William, she walked out of the Lindo Wing of St. Mary's in a loose green polka dot dress designed by Catherine Walker, according to Hello! magazine. When the Duchess of Cambridge gave birth to Prince George in 2013, she too stepped out of the Lindo Wing in a periwinkle polka dot dress, designed by Jenny Packham, in a subtle nod to the late princess, SheKnows reported.
When Giving Princess Charlotte Her Name
The world knows the adorable 3-year-old royal daughter as Princess Charlotte, but her full name is Princess Charlotte Elizabeth Diana. Her name is a direct tribute to her late grandmother, as well as her great grandmother, Her Majesty The Queen, according to The Sun.
Prince George & Princess Charlotte's Baptisms
WPA Pool/Getty Images Entertainment/Getty Images
WPA Pool/Getty Images Entertainment/Getty Images
When the Duke and Duchess of Cambridge baptized Prince George and Princess Charlotte, they both chose locations that paid tribute to Princess Diana. Prince George was christened at the Chapel Royal, the private chapel at St. James' Palace, where the late princess' body had lain for viewing after her death in 1997, according to BBC. As for Princess Charlotte, the royal couple baptized their second born — and first daughter — at St. Mary Magdalene Church, the same place Princess Diana was christened on August 30, 1961, according to The Telegraph. It will be interesting to see where they choose to christen the new royal baby, and if the location of the baptism also pays tribute to Princess Diana.
The Duchess of Cambridge's Engagement Ring
Out of all the tributes to the late Princess Diana, the biggest — and arguably most important — one is Middleton's engagement ring. The blue sapphire and diamond ring once belong to Princess Diana, and was given to Middleton by Prince William in 2010 as a "way of making sure my mother didn't miss out on today and the excitement," the prince said at the time, according to Huffington Post. Middleton wears the heirloom ring to this day.
Of course, these are not the only times Middleton has paid tribute to her late mother-in-law, but they are some of the biggest. And, by the looks of it, there's no doubt that the Duchess will continue to honor Princess Diana and keep her memory alive for her family and the world.