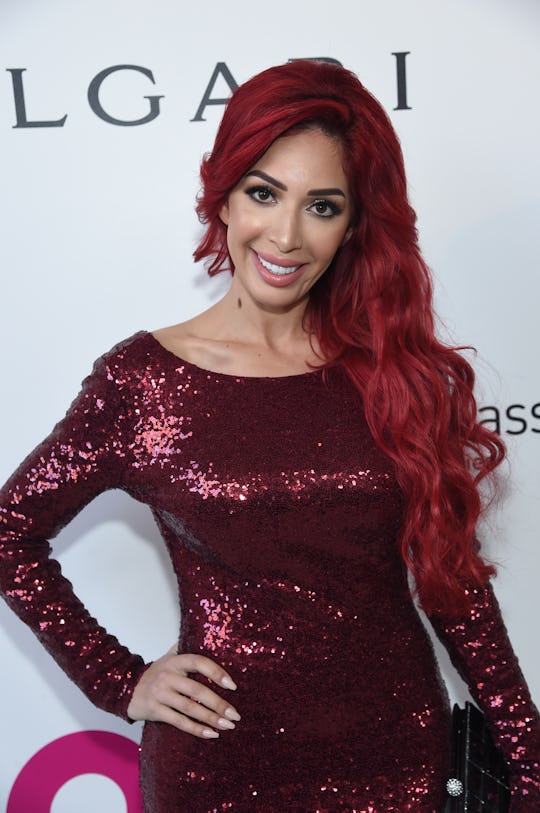 Jamie McCarthy/Getty Images Entertainment/Getty Images
4 Times 'Teen Mom OG's Farrah Abraham Shut Down Haters
Those who are familiar with Teen Mom OG are probably well aware that where Farrah Abraham goes, drama tends to follow. In fact, the young mom has earned quite the reputation through the years for a certain publicity cycle that goes something like this: She speaks her mind, gets shamed for her decision, and then expertly claps back at her critics. Repeat. For those who are missing the young mom since she was kicked off the MTV reality show, here are four times Farrah Abraham shut down haters.
But first, let's start back at where it all began. Abraham was first introduced to viewers on 16 & Pregnant in 2009, Us Weekly reported. At the time, she was a 17-year-old high school cheerleader from Nebraska who was pregnant with her first child. Fans have watched Abraham through the years as she navigated being a pregnant teen and a young, single mom, after she underwent extensive plastic surgery, and eventually made a controversial sex tape.
Most recently, the reality star is suing MTV for allegedly being wrongly fired from Teen Mom OG after she decided to continue her career in pornography, E! Online reported. In a statement, a Viacom spokesperson said, "We respect Farrah's decision to pursue other endeavors and we wish her the best. Regarding her suit, the claims are without merit." Romper has reached out to Viacom for comment, but did not immediately hear back.
Now that you're up to speed, let's take a look back at a few of the powerful moments when Farrah Abraham shut down her haters.
That Time She Waxed Her 3-Year-Old Daughter's Eyebrows
In 2013, Abraham was shamed after she revealed that she tried waxing her daughter's eyebrows, the Daily Mail reported. Sophia was 3 at the time. The then-20-year-old mom explained the reason behind her decision on Good Morning America. "People just kept commenting on a unibrow. And I was like, maybe I am letting it go too far," Abraham said. As Us Weekly reported, Abraham further defended this decision via Twitter, writing, "Unibrows are not sacred! Do the right thing tweeze no matter what age." She later added:
Sophia's beautiful with unibrow or without! Point is take care of your child's hygiene.
That Time She Defended Her Decision To Get Plastic Surgery
It's no secret that Farrah Abraham has gone under the knife more than once to alter her appearance — from a nose job, to breast augmentation, a chin implant, and more, reported Us Weekly. In a blog post back in 2013, the former 16 & Pregnant reality star opened up about why she turned to plastic surgery. "I did not act upon any enhancements due to peer pressure, being irresponsible with money or secretly trying to imitate someone else," she wrote. "I'm the only person in my family who has ever gotten cosmetic surgery. I do not feel everyone should have enhancements done." Abraham added:
I wish everyone would love themselves natural and as beautiful as they are, and if a nose, or boob job is on your mind, you're not alone! Those are the most popular areas that change negatively with age! ... Cheers to being ourselves and not wanting to change who we are, our lives [or] our choices!
That Time She Defended Letting Sophia Wear Makeup To School
During an interview with Theo Von and Matthew Cole of the Allegedly podcast, Abraham responded to critics who have bashed her for allowing Sophia to wear makeup. "You know, when your kids are 5 or 6 they already start playing with makeup," she said, according to Us Weekly. "And I was the only mother in freakin' elementary school getting called in to deal with makeup on her daughter." Abraham continued:
So I said to them — and I proved my point because then the principal switched schools — I go, 'Well then you should take off your makeup. If you don't want little girls coming to school with makeup then don't wear makeup. And then ever since I've seen that principal she hasn't had makeup on her face.
That Time She Sold Her Sex Tape For $1.5 Million
As the Daily Mail reported, Farrah Abraham sold the rights to a sex tape she made with porn star James Deen in 2013 — for a whopping $1.5 million. Later, she defended her decision by explaining her thought process. "You have been a single mother for four years, off and on, dating loser-a** boys who always try and sell information, lie to you, manipulate you," Abraham said in a Keek video, the publication reported. "So, you make your own video, celebrate your awesome body, get your own sexy shots ... So, the person you did this with has the urge to yell it out, when he should be professional and is not." Abraham continued:
You have companies that are interested, so why not sell it. And that's what I did.
Clearly, there are plenty of people who dislike Farrah Abraham, and they will probably continue to attack her for pretty much anything she does. It's true that many of her personal and parenting decisions are unconventional — in fact, some of them are downright controversial. But guys, she's still a person. And it's important to remember that making a sex tape, getting plastic surgery, waxing her daughter's eyebrows, and allowing her daughter to wear makeup aren't exactly illegal or abusive. Plus, you have to hand it the young mom: She knows how to handle herself against the haters.
Check out Romper's new video series, Bearing The Motherload, where disagreeing parents from different sides of an issue sit down with a mediator and talk about how to support (and not judge) each other's parenting perspectives. New episodes air Mondays on Facebook.