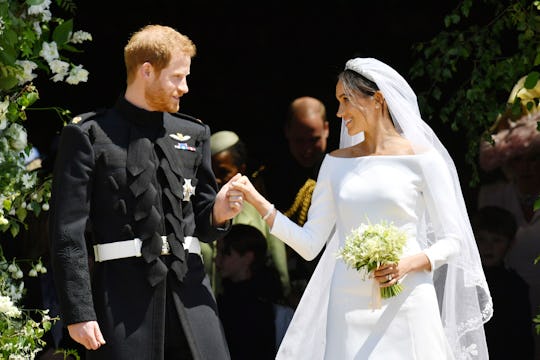 WPA Pool/Getty Images Entertainment/Getty Images
4 Incredibly Touching Ways Harry & Meghan Honored Princess Diana At The Royal Wedding
When Meghan Markle and Prince Harry got engaged in November 2017, they made it a point to pay tribute to the memory of Diana, Princess of Wales. Although Meghan will never get to meet Princess Diana, Harry was able to forge a special connection between the two via the engagement ring. In a moving twist, Harry supposedly incorporated two diamonds from Princess Diana's jewelry collection into Markle's ring design, according to Town and Country Magazine. No, I'm not crying. You're crying. So, how did Harry and Meghan honor Princess Diana at their wedding? Here are four ways the couple paid tribute to Princess Diana at the nuptials.
In Meghan and Harry's first television interview following the engagement, the topic of Princess Diana — who died in August 1997 — was a big one. Harry said about missing Princess Diana amid his happy news, according to The Guardian:
I think she would be over the moon, jumping up and down, so excited for me, but then, as I said, she would have probably been best friends – best friends with Meghan. You know, it is days like today I really miss having her around and miss being able to share the happy news. But, you know, with the ring and with everything else that's going on, I'm sure she's with us.
So touching. Clearly she is near and dear to his heart and very much on his mind, even though it has been many years since she passed. So it was especially important for Harry and his bride to make sure they took steps to honor the late Princess at their wedding. That being said, here are four ways the couple paid tribute to Princess Diana at their wedding.
Princess Diana's Family Members
In early May, Kensington Palace released a statement that some of Princess Diana's family members — including her sister, Lady Jane Fellowes — would attend the wedding. Making matters even more sweet is that Lady Fellowes gave a reading in Princess Diana's honor during the actual ceremony.
Part of Lady Fellowes speech from the Song of Solomon (it's from the Old Testament) read, according to Glamour:
My beloved speaks and says to me: 'Arise, my love, my fair one, and come away; for now the winter is past, the rain is over and gone. The flowers appear on the earth; the time of singing has come, and the voice of the turtle-dove is heard in our land. The fig tree puts forth its figs, and the vines are in blossom; they give forth fragrance. Arise, my love, my fair one, and come away.' Set me as a seal upon your heart, as a seal upon your arm; for love is strong as death, passion fierce as the grave. Its flashes are flashes of fire, a raging flame. Many waters cannot quench love, neither can floods drown it. If one offered for love all the wealth of one's house, it would be utterly scorned.
Wedding Veil
Prior to Meghan and Harry's nuptials, many people assumed that Princess Diana would be honored via the "something borrowed" tradition. Some guessed Markle would opt for the Spencer tiara — Princess Diana's family tiara — for her special day, while others assumed she'd go for a pair of earrings. As it turns out, Meghan didn't opt for the tiara. Instead, Meghan honored Princess Diana with her wedding veil. Meghan's gorgeous veil mirrored the extra long veil Princess Diana wore at her wedding to Prince Charles, Prince Of Wales in July 1981, according to Harper's Bazaar. Although Meghan's decision might be disappointing to some people (the Spencer tiara is pretty iconic, after all), the veil tribute is a pretty creative and sweet choice. I don't think many fans saw that one coming.
The St George's Flowers
In a cute twist, Meghan and Harry decided to adorn St George's chapel with Princess Diana's favorite flowers — white roses, according to Reuters. So sweet, right? Sometimes it's the little things.
"The white roses were such a beautiful, poignant, and subtle tribute to the late Princess Diana today at the #RoyalWedding," someone said about the gesture. Agreed.
Empty Seat For Princess Diana
Some eagle-eyed fans noticed that there was an empty seat at the wedding next to William. Many people speculated that the empty seat was for Princess Diana — a touching gesture, to say the least. Although Kensington Palace has yet to confirm this tribute, many fans are convinced the empty chair is for Harry's late mother.
"The empty seat for Princess Diana next to William broke me," a fan penned on Twitter.
"Prince Harry left an empty seat open for his mom, Princess Diana. I'm not crying, you're crying," someone else added.
Although it's sad that Princess Diana wasn't at St George's to witness Meghan and Harry's wedding, it's wonderful that the couple honored her in so many touching ways.