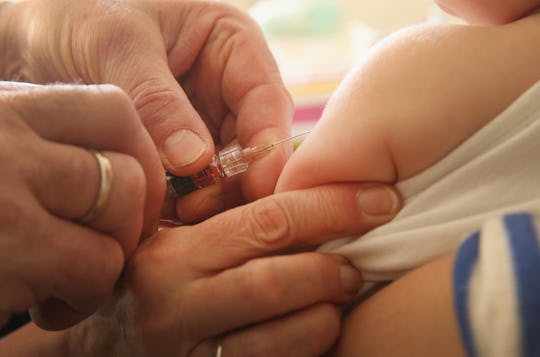 Sean Gallup/Getty Images News/Getty Images
4 Vaccines That Would Save Babies' Lives That We Still Don't Have
Scientific research has and continues to prove that vaccines are life-saving. Inoculation has protected millions of children and adults from potentially fatal diseases, and has nearly wiped out illnesses once commonly spread. But scientists haven't developed a vaccine for every condition, leaving hundreds of thousands of people still vulnerable to deadly diseases. In fact, here are four vaccines that would save babies' lives or prevent long-term complications if they existed already.
Earlier this week, scientists presented data at the American Society of Tropical Medicine and Hygiene Annual Meeting that showed if a vaccine existed for the bacterial infection Group B Streptococcus, it could save more than 100,000 babies each year. According to Infection Control Today, the GBS bacteria affects an estimated 1 in 5 pregnant women, and is a leading cause of maternal and infant illness around the world. In a series of 11 research papers, funded by the Bill & Melinda Gates Foundation, scientists outlined a vaccine could prevent the nearly 147,000 stillbirths and infant deaths caused by GBS bacteria globally. Those deaths account for more than a quarter of annual GBS cases, Infection Control Today reported.
But Group B Streptococcus is not the only disease that should have a preventive vaccine. There are four other conditions that affects babies in a which a vaccine would save their lives and protect against lifelong health complications.
Respiratory Syncytial Virus (RSV)
According to the Mayo Clinic, respiratory syncytial virus — otherwise known as RSV — is a major cause of lung and respiratory tract infections, such as pneumonia or bronchiolitis — most commonly in children by the age of 2. RSV can cause severe infection in premature babies and infants, as well as older adults, adults with heart and lung disease, and people with weakened immunity. In infants, who are most severely affected by RSV, symptoms include struggling to breathe, cough, poor feeding, unusual tiredness, and irritability, according to the Mayo Clinic. Sometimes, the virus can be life-threatening. Researchers are in the process of developing a RSV vaccine, but there are a series of monthly shots that could help protect some babies during RSV season, according to the U.S. Centers for Disease Control and Prevention.
Zika Virus
The Zika virus is a mosquito-borne illness that causes babies born to infected parents to have microcephaly, a rare neurological condition characterized by an abnormally small head, among other severe fetal brain defects. According to Fortune, the CDC analyzed data from last year's U.S. Zika Pregnancy Registry (USZPR) and found that 1 in 10 pregnant women who contracted the Zika virus had children or fetuses with Zika-associated birth abnormalities. And, according to the CDC, there have been more than 580 Zika cases reported between January 1, 2017 and November 8, 2017 in the United States and U.S. territories. Scientists are developing multiple vaccine candidates for Zika virus prevention, although vaccine research has seen some setbacks, according to STAT News.
Malaria
Children are the most vulnerable to malaria, a life-threatening mosquito-borne disease that can cause diarrhea, convulsions, vomiting, nausea, and coma, among other symptoms. The World Health Organization estimates that, in 2015, malaria had killed 429,000 people — more than 70 percent of whom were children under 5 years old. No malaria vaccine exists, although there are more than a dozen candidates in clinical development, including GlaxoSmithKlines Biologicals RTS,S vaccine, which is in Phase III clinical testing, according to the CDC. This is the furthest an experimental vaccine candidate for malaria has advanced.
Cytomegalovirus (CMV)
Part of the herpes family, cytomegalovirus (CMV) is a common lifelong virus that is the leading cause of congenital infection at birth in the United States. The virus can spread to kids through saliva, tears, urine, blood, and breast milk, according to the American Academy of Pediatrics. Parents infected with CMV can also pass the virus to fetuses through the placenta or during delivery. According to the CDC, CMV can cause premature birth, low birth weight, small head size, seizures, and liver, lung, and spleen issues at birth. Babies born with congenital CMV infection may also have hearing loss, vision loss, lack of coordination, seizures, intellectual disabilities, and muscle weakness in the long term. Researchers are working on vaccines for the infection, with a few under clinical development, according to the Journal of Virus Eradication. Although no vaccine is available, the U.S. Food and Drug Administration recently approved a once-daily medication for CMV prevention.
Vaccine development takes a long time, so it's understandable why these four diseases do not have a vaccine available for prevention. But imagine all the lives that could be protected and save if more money, time, and research were put into creating new vaccinations.
Check out Romper's new video series, Romper's Doula Diaries:
Watch full episodes of Romper's Doula Diaries on Facebook Watch.