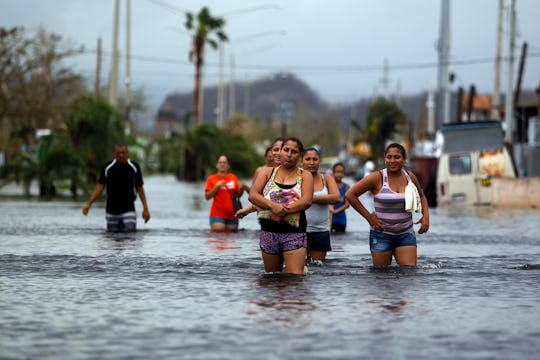 RICARDO ARDUENGO/AFP/Getty Images
Puerto Rico Is In Desperate Need Of Diapers & Here's How To Help
Puerto Rico may have been spared a direct hit by Hurricane Irma, but it didn't get so lucky by the time Hurricane Maria started barreling its way through the Atlantic. The storm hit the island Friday, knocking out its electrical grid and leaving behind devastation that officials have described as "apocalyptic," according to CNN. That's bad news for everyone, but for parents of young kids, life likely feels particularly scary right now. There are lots of different ways Americans can lend their support, but if you're specifically looking for a way to help babies and young children, here are four ways to donate diapers to Puerto Rico, because they're definitely needed.
As conditions in Puerto Rico finally began to ease, aid workers quickly started the immense task of trying to get help and supplies to those affected. But given the severity of the situation — according to The Huffington Post, millions are still without running water or power, there's no cell service, and in some areas, roads and bridges have been all but destroyed — Puerto Rico could use all the help and support it can possibly get. And since young children are particularly vulnerable in times of crisis, these organizations may be a good place to start if you're considering sending money or supplies.
Donate To The National Diaper Bank Network
The National Diaper Bank Network is an organization of diaper banks throughout the country that has been helping to ensure that families affected by the recent hurricanes are able to access diapers and other infant necessities. The only problem? While there are a number of diaper banks in other hard-hit areas, like Texas and Florida, Puerto Rico doesn't actually have a dedicated member diaper bank of its own. Instead, the NDBN says it's "coordinating efforts with other relief organizations to get diapers and supplies to the island," making it one good option for anyone looking to make a financial donation that can benefit young families in need.
Find A Local Drop-Off Site
In an effort to help the millions of Puerto Ricans in need of assistance, many individuals and groups have been organizing their own fundraising drives and drop-off campaigns in their cities, which can be a good option for anyone who might already have diapers and baby supplies to give instead of a monetary donation.
If you're in New York City, urgently needed items like diapers, baby food, batteries, first aid supplies, and feminine hygiene products can be dropped off at select firehouses and EMS stations (a list of locations can be found here). In other cities, like Miami and Washington, chapters of Puerto Rico Rises are coordinating locations where items can be dropped off — and if you don't live near a drop-off spot, you can also donate online at their PayPal page.
Other local organizations that may be be collecting items for Puerto Rican families can be found on social media, as well as on GoFundMe — although donating that way may not be as reliable as giving a financial donation to a reputable organization.
Give To An Organization That Helps Children & Families
There are lots of major relief organizations out there, but some of them specifically focus on helping children and families, and supporting them could be a way of helping ensure these families have necessary supplies. Save The Children is currently in Puerto Rico to offer assistance, as is UNICEF, and both are collecting donations online.
Donate To Puerto Rican Charities
In the wake of Maria's destruction, The first lady of Puerto Rico, Beatriz Rosselló, helped launch Unidos Por Puerto Rico, an emergency fund in association with major private sector companies that can offer assistance to those affected by the hurricane. While the fund isn't specific to children, it does at least support the local effort to ensure that the people in Puerto Rico are helped as much as possible, and can be a good way of avoiding the uncertainly that can come from donating to smaller groups within the United States who may or may not have the ability to get their supplies to the island.
If you're a parent, chances are you've been watching the hurricane devastation, wondering how you'd be able to keep your babies safe if you lost your house or your electricity or running water. And that feeling is an important reminder that the parents of Puerto Rico need our help. While it might be more difficult to actually send physical supplies like diapers directly to Puerto Rico, sending a financial donation is usually the most helpful option.
Puerto Rico definitely has a long road ahead when it comes to bouncing back from Hurricane Maria. But the more the rest of the country can help them to do it, the easier it will be.
Watch Romper's new video series, Romper's Doula Diaries:
Check out the entire Romper's Doula Diaries series and other videos on Facebook and the Bustle app across Apple TV, Roku, and Amazon Fire TV.