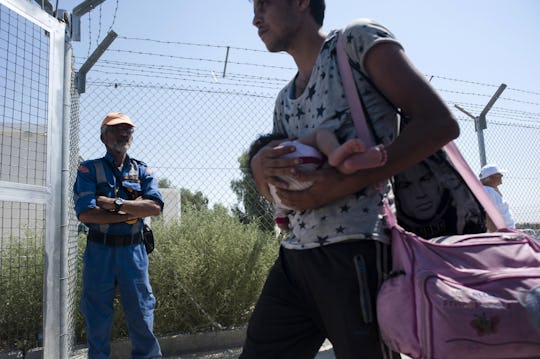 IAKOVOS HATZISTAVROU/AFP/Getty Images
4 Ways To Help Refugee Babies Who Don't Have Enough Milk
Last week, The Guardian reported that babies being held in refugee detention centers are not getting the proper care. A European Union mandate went into effect on March 20 that required refugees coming to the Greek Islands to be detained while waiting to be granted asylum. Unsurprisingly, that process can be long and drawn out. While the harsh conditions in those detention centers are difficult for everyone, infants are suffering because of the serious lack of food, security, and medical attention. Here are four ways to help refugee babies who don't have enough milk.
Human Rights Watch, Doctors Without Borders, and Amnesty International have all confirmed the reported conditions during visits to the camps. Predictably, the weakest members of the family (the very young and the very old) are those at the greatest risk. Because of the stress of the situation, many mothers have been unable to produce breastmilk to feed their babies, and refugee camp organizers have done little to help them. Because of a lack of funding and resources, the camps are reportedly issuing just 100 milliliters of baby formula to each infant per day (which is less than four ounces). According to Britain's Royal College of Midwives, that's just a quarter of the daily intake they should have, which violates international protocol.
Mothers and their children should not be punished for trying to find safety. While many in the European Union have balked about a scarcity of space and resources, it's important to hold onto empathy and put yourself in their position. They are victims of a war, and victims further still of discrimination and xenophobia. They are mothers, fathers, and children.
While this issue may seem far away, there are things you can do to help.
First, you can let your elected officials know that you care about the conditions of Syrian refugees. Second, you can write a letter to your Congressperson telling them about the shameful and dangerous conditions in the camps and your support for U.S. funding to help alleviate them. Be specific, clear, respectful, and firm. Third, you can post about the issue on social media to raise others' awareness.
And, If you'd like to donate to help get more food and formula to children in need, donate to the International Medical Corps, Mercy Corps, or Save the Children. These organizations are on the ground at refugee camps in Greece and in Syria. They are working, with the help of a largely volunteer staff, to provide better resources to asylum-seekers.
These efforts do make a difference. In response to an outcry about the milk shortage in Syrian refugee camps, the European Union is donating milk to about 350,000 Syrian children. EU Commissioner for Humanitarian Aid and Crisis Management, Christos Stylianides, spoke to Dairy Global about the new initiative. He said:
This new program will help hundreds of thousands of Syrian children in need. We must remain committed to helping the most vulnerable victims of the conflict. This additional support will go to humanitarian partner organisations working in the country.
The €30-million program will help both Syrian refugee families and the "beleaguered" European dairy farmers.
While any effort to improve the conditions of refugees trapped in the asylum process is worthwhile and necessary, it is only a band-aid on a larger wound. The Syrian refugee crisis continues to reveal flaws in our international policies, protocols, and our capacity for empathy.