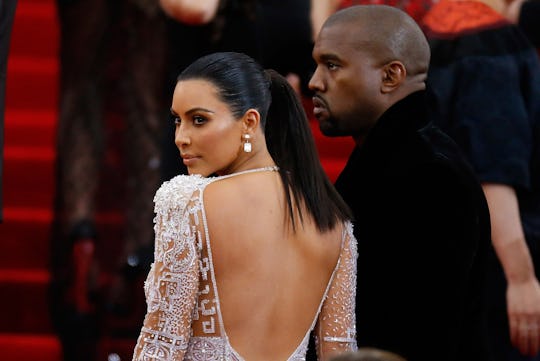 John Lamparski/Getty Images Entertainment/Getty Images
4 Weird Rumors About Chicago West That Are Just Absolutely Ridiculous
Imagine being less than a month old, and already having tabloid rumors spread about you. I guess that's to be expected for any member of the Kardashian family, but it seems a little harsh to do to a newborn baby in any case. In this instance, I'm talking about Chicago West, the newest member of the KarJenner camp. Chicago, nicknamed "Chi," was born on Jan. 15 with the help of a surrogate. And there are already rumors involving Chicago West and her family, because of course there are.
Little Chicago West was born just under two weeks ago, and the rumor mill is already working hard to spread some pretty weird things about her, her birth, and her famous family. She joins a 4-year-old sister, North, and a 2-year-old brother, Saint, in Kim and Kanye's brood, and just like her siblings, her entrance to the world sparked a media frenzy. From rumors that Chicago's aunt, Kylie Jenner, was actually Kim's surrogate, to the idea that Kim has already asked her surrogate to have another baby, here are a few rumors th internet cooked up about the new baby.
Kylie Jenner Was The Surrogate, & That's Why She's Been In Hiding
This is a particular favorite of the Twitter crowd. A lot of people really, truly believe that Kylie Jenner was Kim's surrogate for the pregnancy and birth of her third child, Chicago. The theory is thanks in part to a rumor that Kylie was in labor and rushed to the hospital the Friday before Chi was born, according to The Daily Mail. So a lot of people are convinced that Kylie really did go into labor, and gave birth, but that it wasn't her kid at all — it was her sister Kim's, and she just acted as the surrogate for the pregnancy.
All of that is in spite of the fact Kim wrote a blog post on her website stating that the woman who gave birth to Chicago has "no biological relationship" to her daughter, and that she and Kanye definitely went through an agency to find someone they did not know to carry Chi, according to Cosmopolitan. But, also, no one has actually confirmed that Kylie is pregnant.
Chicago Will Definitely Not Be Kim's Youngest Child
Again, Kim and Kanye's third child is not even a month old, and the rumor mill has already started about whether they will try for another baby after Chicago. Can the girl just enjoy being the youngest for a little while? Sheesh.
Some media reports tried to claim that Kim had already asked her gestational carrier if she wants to carry another baby for her, just days after Chicago was born. But Kim has already shot down those rumors as being "fake news." Good for her.
Kylie Is Chicago's "Real Mom"
OK, this one is actually pretty ridiculous, a little bit hurtful, and, thankfully, not super prevalent on social media. But there are a few tweets that suggest that Kylie is actually Chicago's "real mom," or that ask whether Kylie is actually the baby's mother.
They could be in jest, but it's still problematic. Kim has spoken out a lot about how difficult pregnancy was for her, but has also said that surrogacy is actually "so much harder to go through," because you really have no control over the situation. So for people to suggest, even as a joke, that Chi isn't her daughter, and that Kylie is the "real mom" of the newest KarJenner family member — well, I imagine that wouldn't be fun for her to read.
She's Named After A Food Truck
Yeah, OK. This one is obviously meant to be a joke. When Chicago's name was announced, the owners of a food truck called ChicagoWest in Seattle (not the Windy City — that's a little confusing) released a funny statement claiming the baby was actually named after their truck. The tongue-in-cheek statement, released on the ChicagoWest website, stated:
We at ChicagoWest are so honored that Kim and Kanye would consider naming their child after our food truck. We didn't see them at the truck but feel this must be a nod to our amazing Chicago Beef Sandwich. Keep watch on our website www.chicagowestfood.com for our new menu item, BabyWest, launching this spring!
But it was clearly meant to be funny, and plenty has already been written about why Kim and Kanye actually named their daughter Chicago.
So there you have it. There are already a few rumors about or involving Chi West, and she's not even old enough to be out of the cute newborn onesies yet. The poor thing is likely in for a lifetime of rumors as a member of the Kardashian/Jenner family — luckily, she has skilled "Mom-ager" Kris Jenner and the rest of her family to help her navigate them with ease.
Check out Romper's new video series, Romper's Doula Diaries:
Watch full episodes of Romper's Doula Diaries on Facebook Watch.