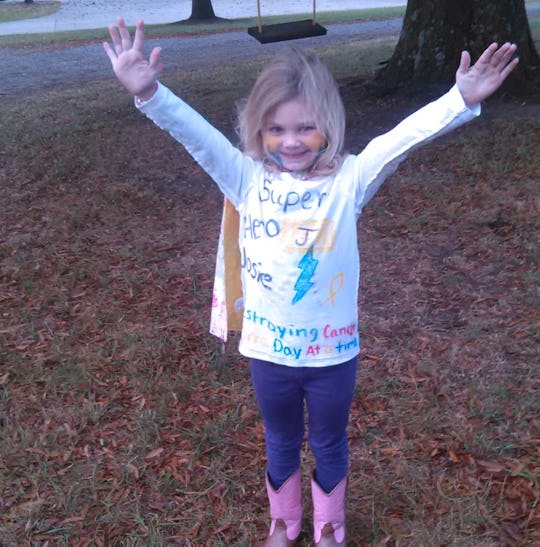 4-Year-Old Cancer Survivor Dressed As Herself For "Superhero Day" & We Honestly Want To Dress Like Her Too — PHOTOS
We can all agree that it's fairly easy to don the famous bat symbol or throw on a pair of black square (and let's face it, decidedly hipster) glasses and try to pass ourselves off as Superman, but it tends to mean a lot more when we have real people to look to as heroes. And when those real-life superheroes happen to be children who exude formidable strength beyond what we typically think of as kid-sized courage, it makes us realize that we adults are looking up to them as much as they are looking up to us.
When Alyssa Butler posted photos on Facebook of her 4-year-old daughter Josie dressed in a homemade cape and "uniform" for her school's Superhero Day, it made perfect sense: Josie had recently banished her acute lymphoblastic leukemia into remission just nine months after her diagnosis in 2013. If that isn't a total freaking superhero for real, I don't know what is. In addition to her homemade cape, Josie even has her own superhero motto: "Destroying cancer, one day at a time." I am in. to. it. (And that totally kick-ass lightning bolt across her back and on her cheeks is pretty on point too.)
On the Josie's Journey Facebook page, Butler says that the decision to have Josie dress as herself was an easy one — she'd already gone through her closet for inspiration and come up with nothing worthwhile.
I sat on the floor and explained to her she was my hero, and how she should feel like a superhero for all that she has done. And she smiled, and it was a smile with a glow that could light the night sky.
And her message to all of the other parents and kids out there struggling to battle their own diseases is to stay strong and "stand up and realize they too are heroes to everyone around them."
Mom Alyssa frequently takes to the Facebook wall often to share photos or updates of Josie's health and their life as she stays cancer-free. In the description of the Josie's Journey page, she writes: 
For cancer patients, it's different and more challenging through every obstacle of life. It's crazy to think and to say she is a patient because you would never know by seeing her. My daughter has shown me how strong I really am, my weaknesses, and how fast a love of life can be taken.
To see the life and excitement in this kid's face after battling something that not many always win, it makes you want to hug your babies that much tighter, as it is easily a great fear deep in any parent.
And Josie herself will likely make you want to create your own cape and superhero outfit and aspire to be as strong and as cool and she is. (Yeah, good luck with that.)  
Images: Courtesy of Alyssa Michelle Butler/Facebook(4)