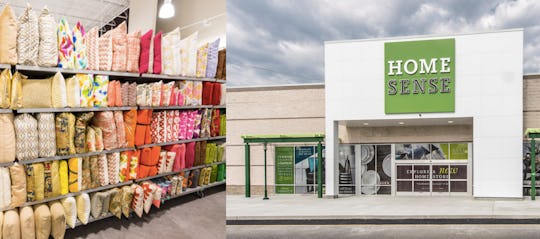 HomeSense
HomeGoods' Sister Store HomeSense Is Opening 400 New Locations & We're So Here For It
My family thinks I'm nuts, but I will only shop for things that I know I'm getting a good deal on. It feels great when I get a quality item for a low price, which is why I tend to shop (and sometimes live) at stores like TJMaxx, Marshalls, and HomeGoods. When I heard about the new HomeGoods spinoff store, HomeSense, I was anxious to see one pop up near me. Well, it seems like the wait is over, because the company behind HomeGoods just announced that 400 new HomeSense stores are opening across the nation. Can I get a hallelujah?
In a report published by Home Textiles Today, the parent company of HomeGoods and HomeSense, TJX, announced that they would be opening nearly 400 more HomeSense stores in the future, but did not say where and exactly when. However, in the announcement, Ernie Hermann, president and CEO of TJX, noted that they would be opening 15 HomeSense stores and 85 more HomeGoods stores across the country this year alone.
If you aren't familiar with HomeSense stores, that's probably because there are only four currently open and they're all on the east coast. As of now, you can only find HomeSense stores in Ocean and Hanover, New Jersey, along with Framingham and Westwood, Massachusetts. While there is no official word from the company on where the new stores are coming, according to a report in Newsday, this year two stores may be coming to Long Island (my hometown, yay!). The one in Commack, New York is slated to open in the spring, while the other one in Riverhead should be opening in late summer. Moorestown Mall in New Jersey may also be getting a HomeSense store, reported Philly News, and it'll open sometime this year.
You know and love HomeGoods, but what's so different about HomeSense stores? According to Southern Living, Hermann said last March that HomeSense stores are meant to be a complement to HomeGoods and its merchandise. On the HomeSense website, the company noted that the stores carry a bigger furniture selection, but also offer general store merchandise. According to Clark, HomeSense stores offer large scale items like pool tables, rugs, beds, bookcases, desks, and sofas, along with lighting, art, and home improvement items. Salivating yet?
HomeGoods has always been my go-to for home decor and kitchenwares, and when I'm in the market for a new rug or chair, I check HomeGoods first. Their selection is always beautiful and amazing, but it is pretty limited. I think that's where HomeSense stores will come in. Because they will be more focused on carrying furniture and larger items, I'm assuming they'll have more of a selection to choose from than a HomeGoods store alone. If you've ever gone to a HomeGoods to find just one of something that you need two of, then HomeSense is probably your solution.
HomeSense's general store concept is also really exciting. On their website, they have photographs of beautiful hardware including designer door knobs, gorgeous outlet plates, and even wallpaper. It looks like the HomeSense stores will also carry tons of pretty dining and kitchen items, party supplies and gifts, and a variety of furniture and organizational supplies for your work space. Sounds like a great place to live, honestly. I think I'll just move in.
If you don't see a HomeSense store slated to open in your hometown yet, it's probably just a matter of time. With the opening of 400 new stores, there's bound be one near you eventually. In the meantime, start saving, because there will be lots of shopping to do when it gets there.
Check out Romper's new video series, Bearing The Motherload, where disagreeing parents from different sides of an issue sit down with a mediator and talk about how to support (and not judge) each other's parenting perspectives. New episodes air Mondays on Facebook.