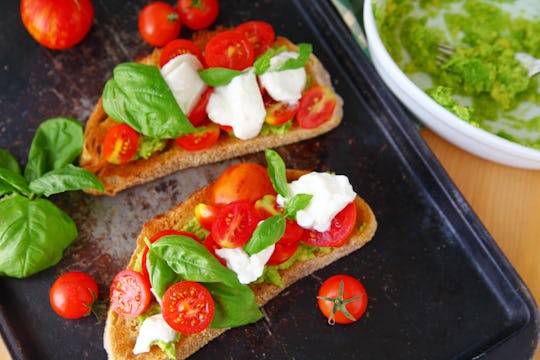 Alice Day / EyeEm/EyeEm/Getty Images
18 4th Of July Appetizers That Take Advantage Of All The Summer Fruits & Veggies
There's no better day for a barbecue than the Fourth of July. There's just something about the holiday that makes it seem like you have to eat your meals outside, under the sun, with the smell of the grill wafting through the air. While this year's celebrations may look a little bit different than usual, that doesn't mean you can't make some seasonal foods for yourself and your family. There are some great Fourth of July appetizers out there that will make you feel extra patriotic and totally satisfied.
The best Fourth of July appetizers aren't the ones that are red, white, and blue (although those do make for the perfect Instagram photo), but the ones that take advantage of seasonal summer produce. July is the best time for deliciously tart fresh berries, juicy tomatoes, crisp watermelon, and sweet corn on the cob. Take some of the best fruits and veggies that summer has to offer, add some cheese (because why not?), and you've got yourself a dish everyone will be talking about.
The below appetizer ideas are pretty easy to put together, and they're also ideal for warmer weather. When it's hot and sunny outside, the last thing you want to do is eat a piping hot dip! These are refreshing, delicious, and perfect for a summer meal.