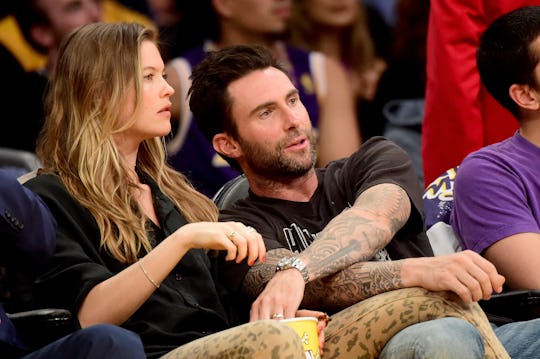 Harry How/Getty Images Entertainment/Getty Images
Adam Levine's Quotes About Behati Prinsloo Will Make You Feel His Love
Women around the world were heartbroken to hear that Adam Levine was off the market. But, seeing photos of the Maroon 5 frontman and his other half together make it easier to accept that he's found the woman of his dreams. And honestly, all the times Levine all talked about Behati Prinsloo prove that she's just the girl for him.
After two years of dating, Levine proposed to Prinsloo in July of 2013 with a stunning ring that she told ABC News was "from the 1930s. It's vintage and [Levine] picked it out." People reported on the top-secret destination wedding that followed roughly a year later, sharing that it was held at Farms in Los Cabos, Mexico. The 20-minute long ceremony was reportedly officiated by none other than Jonah Hill.
On Sept. 21, 2016, the Levine-Prinsloo family grew by one more when they welcomed their first child, Dusty Rose Levine, to the world. Less than a year later, the couple announced that they were expecting yet again. Growing their family seems to be a priority for the two of them. Shortly after getting married, Levine said in an interview with People, "I want to have 100 kids. I want to have more kids than is socially responsible." While they are still no where near reaching that goal, their little family is quickly growing.
Along with big love for his children — present and future — Levine has a full heart for his wife as well. Let's take a look at a few of his best quotes about his wife and the mother of his children.
On Perfection
In an Instagram post from Aug. 3, Levine shared a hilariously wind-blown photo of himself and Prinsloo out on the water. In the photo's caption, he showed off his writing skills and made the entire female population collectively swoon:
Every once in a while, the stars align… The mood is right, the lighting is flawless, and the expressions on our faces speak a thousand words without uttering a single syllable. I'm not saying it's the perfect photo. But I'll be damned if it ain't as close as anyone has even come. #truth
On Love Making Him Better
While at the Tribecca Film Festival in 2014, Levine shared his love for Prinsloo and the role that she has played in his life. When you find the person who loves you unconditionally, you become the ideal version of yourself. According to Us Weekly, he said:
She makes me the best person I can be. She's the best in the world.
On Her Best Qualities
When asked about his upcoming clothing line, Levine pointed to Prinsloo as his greatest inspiration. In doing so, he shared his deep love and respect for her personality and tastes, according to Glamour:
Well, I'm also really lucky because my wife happens to be — in my opinion — the best dressed woman out there. Obviously, I'm biased, but I just feel like she's very creative, inventive, [and has] good taste.
On How Lucky He Is
Levine has clearly lucked out when it comes to both his personal and professional life. During his Hollywood Walk of Fame ceremony in February, he told Entertainment Tonight that it is all because of the wonderful people in his life, Prinsloo included:
I have a daughter, I have the most beautiful wife in the entire world. I am the luckiest person who has ever lived, and it has nothing to do with me, it has to do with the people who love me.
On Love Being More Than Enough
While Prinsloo often speaks to the press about her love for her husband, Levine tends to share some of his best material on Instagram. In another short and sweet post from November 2016, he captioned a family beach photo:
Everything I need is right here. (Beach optional)
As of now, Prinsloo's due date has not been announced. But one thing's for sure, whenever that baby does make its arrival, there will be a lot of love waiting for it at home. Experts say that children benefit from seeing their parents express love for one another, and there is clearly no shortage in this household.