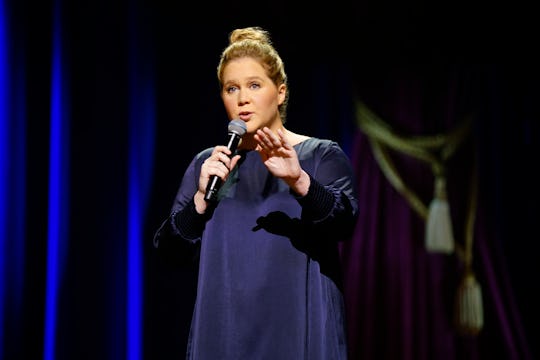 Elizabeth Sisson/Netflix
Amy Schumer's Jokes About Pregnancy Will Leave You ROFL
Amy Schumer is pregnant in her new comedy special, Growing, which premieres on Netflix Mar. 19. She opens up about how her life has changed in recent years, and without giving up one ounce of her signature comedic style, she tackles marriage, pregnancy, and motherhood in a way that all moms could relate. If you're in for a laugh, here are some of Amy Schumer's funniest jokes about pregnancy from the special.
Schumer (who is pregnant with her first child) has been dealing with complications from hyperemesis gravidarum, a pregnancy condition that causes severe nausea and vomiting. In an Instagram post from February, she shared details of her symptoms and explained why she needed to cancel the rest of her comedy tour. "Due to complications from hyperemesis I am not cleared to fly for the next couple weeks," Schumer wrote. "The baby and I are healthy and everything looks good. But I am in my third trimester and I am still nauseous all the time and vomiting. I vomit mostly every time I ride in a car even for five minutes. I have a pretty good attitude about it and some days I feel good for a couple of hours, but mostly it sucks."
In her comedy special, Schumer hilariously jokes about the woes of pregnancy, including the often unrealistic expectations society has for pregnant women. Growing is definitely worth a watch, but if you're looking for a little preview, here are some of Schumer's best pregnancy jokes.