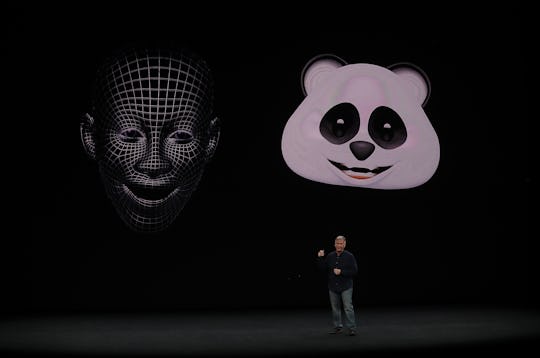 Justin Sullivan/Getty Images News/Getty Images
5 Animoji-Like Apps & Programs You Can Use If You Don't Have The iPhone X
Listen, I recently switched from Apple to Android, and even I am intrigued by a few of the features on the new iPhone X. The camera seems like it produces some pretty amazing images, and the Animoji feature is sure to provide hours of entertainment to people who get their hands on the phone. But what if you can't get the iPhone X, or don't particularly want it, but love the idea of Animoji? You're in luck, because there are other Animoji-like apps and programs that you can check out instead.
Animoji basically put your own facial expressions "onto one of several animated creatures," The Verge reported. The feature was announced during Apple's launch event on Sept. 12, and it was easily one of the most talked about announcements from the occasion. Animoji uses Apple's new facial recognition software to work, and there are a dozen different Animoji you can play around with — including the alien, fox, monkey, and panda — according to Business Insider.
The thing is, even though Apple also announced new operating systems for its smartphones and Apple laptops or desktop computers at the event, as well as a wireless charging pad, those things just aren't as exciting as the prospect of turning yourself into a poop emoji and playing Animoji karaoke. Luckily, for those of us who don't have an iPhone X and want to get in on the fun too, there are similar apps and programs out there that may tide us over until our phones have something like Animoji.
3D Animated Bitmoji For Snapchat
In September, 3D animated Bitmoji for became available to Snapchat users. With the feature, people using Snapchat just "point their camera at a surface to place their bitmoji and see it animate with a short scene," according to Variety.
And while it's really not the same thing as Animoji at all, Bitmoji are still kind of entertaining. Depending on how you use it, you could sort of make it seem like your Bitmoji avatar is singing or dancing. I know it's not the same as Animoji karaoke, but it's still kind of fun.
Animoji Apps For Android
If you search "Animoji for Android" on the Play Store, a ton of options pop up that Android users can check out. Some are keyboard programs or regular emoji apps that made it past the search filter, but you get the picture.
Unfortunately, at least one review out there says these options are nothing like the Animoji feature available on iPhone Xs. Oh well. They're out there, back to the drawing board.
Emoticons For Skype
Skype has its own version of animated emoji called Emoticons. But they are more similar to traditional emojis, The Los Angeles Times reported.
Indeed, Skype's animated emoji look a lot like the regular old emoji that many people are used to. But they are at least somewhat animated, and there are a ton of different options listed on the full list of Emoticons page on Skype's support site. If you can't buy an iPhone X, or don't want to get one for whatever reason, but you do have Skype, Emoticons may have to do for now.
Tenor's GIF Keyboard
OK yes, I know. GIFs are not the same thing as animated emoji-like Animoji, but hear me out.
Tenor's "GIF Keyboard" was the most downloaded app in its category on the iOS and Android back in September, according to Forbes. That means a lot of people are fans of the program, so it's at least worth checking out.
And yes, GIFs are just animated images and not animated emoji. But they can still convey a lot of emotions in a message when words fail. So until animated emoji for Android phones and older iPhones are a thing, the Tenor keyboard is a fun alternative.
Emogi for Gboard
Animated "Emogi" stickers are available right now if you download Emogi for Gboard. The Play Store has them for Android phones, so if that's the sort of smartphone you have and you're not interested in getting an iPhone X, Emogi stickers are yet another Animoji alternative.
There are thousands of animated stickers on Emogi for GBoard, according to Android Central. And, again, while animated stickers are not exactly like animated emoji, at least they move, right?
The truth is, it doesn't seem like there's really anything else quite like Animoji out there right now. Developers are trying, if the apps available for Android are any indication, but nothing comes close to Apple's new animated emoji feature at the moment. For now, if you don't have the iPhone X, dancing stickers and entertaining Bitmoji figures will have to do.
Watch Romper's new video series, Romper's Doula Diaries:
Check out the entire Romper's Doula Diaries series and other videos on Facebook and the Bustle app across Apple TV, Roku, and Amazon Fire TV.