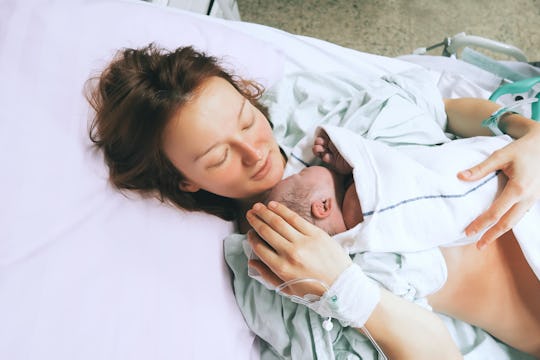 nataliaderiabina/Fotolia
Here's Why You May Want To Seriously Consider Delaying Your Baby's First Bath
Our local hospital is "baby friendly", meaning the birthing ward adheres to certain standards that best promote a breastfeeding relationship between a mother and newborn. I have given birth twice here, and both times felt grateful that the nurses gave me as much time to hold my babies as I would like. I raved to anyone who would listen about how the sponge baths took place right beside my bed about two hours after birth— I mean, that's revolutionary, right? But I just found out, two hours might not be long enough. The benefits of delayed bathing are gaining more prominence in the medical field, with many hospitals recommending against baby getting a bath for the first six to 12 hours after birth. In fact, the World Health Organization is now advising that newborn baths should be delayed a whopping 24 hours after delivery.
Mainstream medicine is catching on, and more and more hospitals are moving toward this standard of care. "Delayed bathing is a good practice for overall infant health," Dr. Lisa Lewis, a Fort Worth-based pediatrician and author of Feed the Baby Hummus, Pediatrician-Backed Secrets from Cultures Around the World, tells Romper. "It provides compassionate care as the baby leaves the comfortable womb and enters the world."
So what exactly are the benefits to delaying a bath after birth? I'm glad you asked.