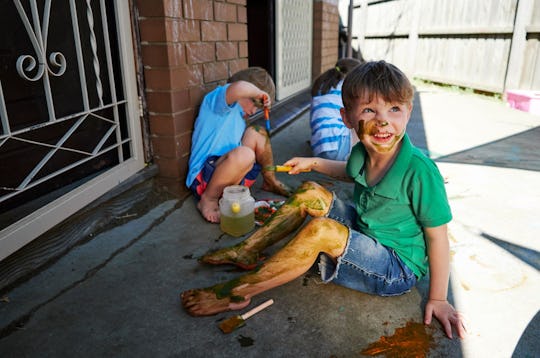 Gary Radler Photography/Stocksy
Making A Mess Is Good For Kids, So There's Your Excuse Not To Do Housework
It seems like from the moment they arrive on the scene, it's hard-coded in our kids' DNA that they must make a shambles out of everything around them. Experts say that the benefits of letting your kid make a mess range from helping expand their creative development to boosting their developing immune systems. So put down your cleaning supplies for just a minute and consider the scientific information that supports a more relaxed approach to mess — no matter what your mother-in-law says.
That's right, scientific information. In September 2018, the American Academy of Pediatrics released a report called The Power of Play which went so far as to suggest that pediatricians "... write a prescription for play at well visits." The most beneficial type of play is child-driven and unstructured, says Dr. Elizabeth Harstad, a developmental behavioral pediatrician at Boston Children's Hospital and an instructor in pediatrics at Harvard Medical School. This type of play "can be beneficial to children's development, to their executive functioning, to their motor skills... to their development as a whole child."
"So I definitely think there are benefits to allowing children to make a mess," Dr. Harstad adds.
Dr. Julia Torquati, interim chair of the Child, Youth and Family Studies Department at the University of Nebraska, agrees, saying that the key is having materials available and accessible for experimentation — and that can add up to some serious disarray.
"For developing creativity, it's important that the child has materials around that you can put together and combine in a variety of different ways," Dr. Torquati says, referring not only to art supplies but also to things like a dress-up box or even a box of used kitchen supplies, old boxes — "props" for the child to explore, use, and combine. "Using materials to create spaces and play routines is probably going to be a messy endeavor, and we're talking not just in the house but also the yard."
As far as outside, Dr. Torquati likes the idea of a "mud kitchen," a fun DIY outside play space for kids that's designed to engage their senses. With "mud" right there in the name, you know this one's going to be messy, but Dr. Torquati notes that it's also a good example of "negotiating the boundaries of the mess. You can do this, but let's agree what the space is for this activity." Then, the mess does not creep all over your yard or your home.
In fact, that's her number-one tip for managing with the stuff-related chaos that comes with kids: Have physical boundaries for it, spaces where the stuff can live, and spaces where it's prohibited (say, maybe your den and your bedroom). With four children, she adds that picking your battles is also important: If you have a particular issue that you want to stand firm on — hers is no toy guns in the house — you can use this as a lesson in boundaries.
As for Dr. Emhart, who coincidentally also has four children, she encourages parents to remember that childhood lasts for only a very short time, and that a managed mess is building your children's minds. "It really is important, from a developmental standpoint, that children have the space, freedom, and opportunity to play with toys in an appropriate space," she says. "If you can, try to let some of that mess go. It's better for the children to have opportunities for free and creative play in an environment that's not neat as a pin than it is for a house to be spotless where all kids are all on electronics."
These are just some of the pros that come with letting your kid get messy: