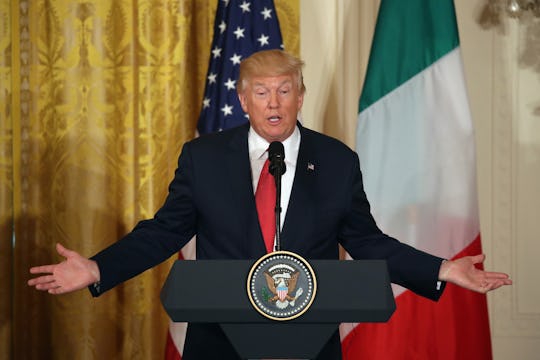 Mark Wilson/Getty Images News/Getty Images
5 Troubling Moments From Trump's AP Interview
On Sunday, the Associated Press published a sit-down interview with President Donald Trump that has raised eyebrows across the country. With it, the AP released a rough transcript of the conversation that is as much a compelling read as it is a confusing one. Trump's answers are sometimes incoherent, sometimes detached from reality, but mostly distressing. In fact, here are five bizarre and troubling moments from Trump's AP interview.
The Associated Press noted at the beginning of the transcript that places where the interview's "audio recording is unclear, ellipses or a notation that the recording was unintelligible are used." If you plan to read through the entire transcript, be prepared to run across a whole lot of ellipses, "unintelligible" mentions, and crosstalk between Trump and AP White House Correspondent Julie Pace.
For her part, Pace tried hard to have Trump answer the questions directly and clearly, but the president seemed to bury his answers deep within curious word salads. The topics she brought up in the interview ranged from job creation to his relationship with world leaders and everything in between. With each one, Trump showed an inflated sense of ego and made claims that simply go against reality. Surprising? No. Bizarre? Always.
Trump And Merkel Have "One Of The Best Chemistries"
Who can forget forget Handshake Gate? Last month, when Trump met with German Chancellor Angela Merkel, he failed to shake her hand during a photo op. Video of their tense meeting shows the president ignoring the photographers' request — as well as Merkel's own offer — to do so. Trump told AP during the interview that he "never heard" the press pool ask. Plausible? Maybe. Believable? Hardly. What's even more peculiar? Trump claimed that, despite his insistent criticisms of the German chancellor, he and Merkel have "one of the best chemistries." Merkel's facial expressions say otherwise, I think.
The First 100 Days Are "An Artificial Barrier" And "Not Very Meaningful"
Trump's first 100 days in office end on Saturday, April 29. According to the president, he is "mostly there on most items." But as the Huffington Post noted, he has failed to make meaningful progress on almost every one of his legislative goals in his "100-day action plan." Trump seems to know this, despite breaking from reality on his success: During his interview, he called the first 100 days "an artificial barrier" more than once and claimed they're "not very meaningful."
Trump: There's A Lot Of Responsibility In Being President. Country: No, Duh
When asked how being in office has changed him, Trump said he "never realized how big it was." What is "it," you ask? The responsibility of the presidency, of course. He told AP,
The financial cost of everything is so massive, every agency. This is thousands of times bigger, the United States, than the biggest company in the world ... It's massive. And every agency is, like, bigger than any company. So you know, I really just see the bigness of it all, but also the responsibility. And the human responsibility. You know, the human life that's involved in some of the decisions.
I don't know about you, but Trump probably should have had a good idea of what he was getting himself into before declaring his candidacy.
Speaking Of The Electoral College, Trump Says It's Hard For Republicans To Win
Trump told AP that the electoral college skews in favor of Democrats, even though, as Newsweek reported in December, the outdated group historically favors Republicans. (Remember the 2000 presidential election?) Trump said,
The Democrats, they have a big advantage in the electoral college. Big, big, big advantage.
This is a comical statement coming from Trump for the mere fact that, if it were not for the Electoral College, he would not be president. Former Secretary of State Hillary Clinton won the popular vote by nearly 3 million votes — the third highest among defeated candidates, according to CNN. Yet, the electoral college handed Trump the presidential torch.
Trump Created 500,000 Jobs As Of Two Months Ago, But That's Not How Job Creation Works
The AP interview is not the first time Trump overstated his job gains within the first few months of his presidency. He made the same assertion earlier this month, reportedly telling a group of CEOs that his administration already created 600,000 jobs, according to The Hill. (He scaled back his numbers by 100,000 less in the AP interview.) Instead, the U.S. economy added 533,000 jobs in the first quarter of 2017, Market Watch reported. Still, whatever the number, economists credit more than 200,000 of those jobs to the outgoing president, Barack Obama because they were created before Trump even took office.
Of course, this is only a short list. If you read through the 7,849-word transcript, you will find dozens more bizarre and troubling moments courtesy of the president. (One more example: He claimed that he never supported WikiLeaks, even though Trump said at a rally in October that "I love WikiLeaks," according to The Hill.) Be prepared for a wild ride.