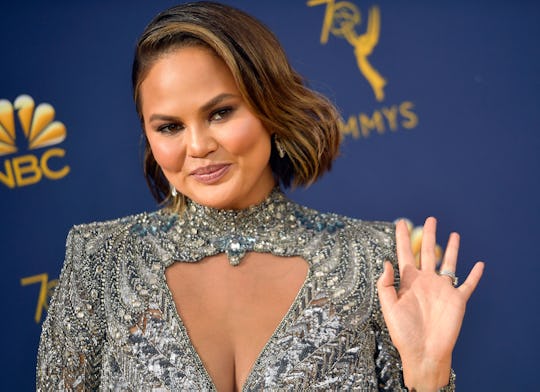 Matt Winkelmeyer/Getty Images Entertainment/Getty Images
5 Celeb Moms Who Struggled With Postpartum Depression, Because No One Is Immune
While there's still a certain stigma associated with postpartum depression, more awareness about the condition has been spread in recent years. Part of this growing awareness can be attributed to a rising number of celebrity moms who have opened up about their own struggles with PPD. So here are 5 celeb moms who struggled with postpartum depression — because it affects more people than you might think. And there's absolutely zero shame in reaching out for help about something you have no control over.
The fact that celebrities are shedding light on this often debilitating condition is definitely a good thing. As it turns out, as many as 1 in 7 new moms experience PPD, according to the American Psychological Association. (So chances are, you or someone you know has experienced it.) Although postpartum depression can take on many forms, some of the symptoms can include: Sadness or crying uncontrollably for long periods of time, feelings of guilt or worthlessness, a loss of pleasure/interest in things you used to enjoy, racing and scary thoughts, excessive irritability, anger, or agitation, sleep issues, among others, according to the APA. Some famous mothers who have come forward about their journey with PPD include ...
Serena Williams
The tennis champion has remained open about her traumatic birth experience — and how she nearly died after having a C-section, from complications related to a pulmonary embolism, according to Vogue. However, Williams also struggled with postpartum depression during the months that followed Alexis Olympia's arrival. "Honestly, sometimes I still think I have to deal with it," the new mom told Harper's Bazaar UK in July. "I think people need to talk about it more because it's almost like the fourth trimester, it's part of the pregnancy. I remember one day, I couldn't find Olympia's bottle and I got so upset I started crying … because wanted to be perfect for her."
Chrissy Teigen
In March 2017, Chrissy Teigen — who was still only a mom of one at the time — wrote a moving essay for Glamour that shed light on her journey with postpartum depression and anxiety after she gave birth to her first child, Luna. "Getting out of bed to get to set on time was painful. My lower back throbbed; my shoulders — even my wrists — hurt. I didn't have an appetite. I would go two days without a bite of food, and you know how big of a deal food is for me," she wrote. "When I wasn't in the studio, I never left the house. I mean, never. Not even a tiptoe outside. I'd ask people who came inside why they were wet. Was it raining? How would I know — I had every shade closed."
Adele
In general, Adele has been extremely private about her son, Angelo, along with motherhood. However, as the singer revealed to Vanity Fair back in 2016, postpartum depression was part of her reality. "I had really bad postpartum depression after I had my son, and it frightened me," she told the publication. "My knowledge of postpartum — or post-natal, as we call it in England — is that you don't want to be with your child; you're worried you might hurt your child; you're worried you weren't doing a good job. But I was obsessed with my child. I felt very inadequate; I felt like I'd made the worst decision of my life."
Hayden Panettiere
As People reported, Hayden Panettiere sought help at a treatment center for postpartum depression back in 2015, after welcoming her daughter, Kaya. The actress opened up about this period in her life during an appearance on Live! with Kelly and Michael. "There's a lot of misunderstanding – there's a lot of people out there that think that it's not real, that it's not true, that it's something that's made up in their minds, that 'Oh, it's hormones.' They brush it off. It's something that's completely uncontrollable. It's really painful and it's really scary, and women need a lot of support."
Gwyneth Paltrow
Via her website, The Goop founder, actress, and mom of two shared about her experience with PPD — which struck with her second child, but not with her first. "When my son, Moses, came into the world in 2006, I expected to have another period of euphoria following his birth, much the way I had when my daughter was born two years earlier," she wrote. "Instead I was confronted with one of the darkest and most painfully debilitating chapters of my life." Paltrow elaborated on this, telling Good Housekeeping:
[I] felt like a zombie. I couldn't access my heart. I couldn't access my emotions. I couldn't connect ... I thought postpartum depression meant you were sobbing every single day and incapable of looking after a child. But there are different shades of it and depths of it, which is why I think it's so important for women to talk about it.
Clearly, no one is immune from the depths of despair that can be postpartum depression. Not the moms who appear from the outside to "have it all together." Not the moms who have never experienced PPD with previous pregnancies. Not even rich and famous celebrities. Which is why it's so important that we continue to break down the stigma that surrounds PPD. Because it's not something that mothers can control — and there's absolutely no shame in seeking help.