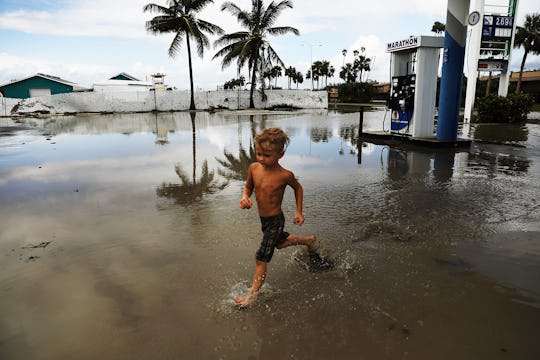 Spencer Platt/Getty Images News/Getty Images
5 Children's Organizations To Donate To After Hurricane Irma
On Sunday, Hurricane Irma crashed into Florida after barreling through the Caribbean islands. The powerful storm has killed at least 28 people, destroyed homes and businesses, displacing families, and has left millions without power, according to Huffington Post. Families impacted by Hurricane Irma face a long road to recovery, and are in desperate need of support and supplies. Want to help, but not sure how? Here are five children's organizations to donate to after Hurricane Irma.
Much like Hurricane Harvey, Hurricane Irma had left widespread destruction in its wake after pummeling the Caribbean islands and tearing through South Florida. According to BBC News, the small island of Barbuda has been completely destroyed, leaving most of its residents homeless. Irma then crashed into Florida as a Category 4 storm, leaving nearly 4 million residents without power, CNN reported; another 660,000 or so households lost electricity as Irma made its way through Georgia and the Carolinas as a tropical storm.
Children are often among the most vulnerable people affected by hurricanes, and need the most help as families start to assess the damage. According to Fatherly, catastrophic hurricanes like Hurricane Harvey can cause long-term psychological affects. So if you're looking to help victims of these tragic storms, consider donating to one of these children's organizations.
Miami Diaper Bank
Want to make sure little ones affected by Hurricane Irma have diapers so they can stay clean, dry, and healthy? Then consider donating to the Miami Diaper Bank. According to Today, the Miami Diaper Bank will use 100 percent of donated funds toward purchasing and distributing diapers for families in South Florida. So far, the Miami Diaper Bank has been able to supply more than 192,000 diapers to Hurricane Irma victims, the nonprofit has reported.
Babycycle Diaper Bank
Babycycle Diaper Bank is looking for specific material donations, which can be dropped off at six different locations in the St. Petersburg, Florida area. The Pinellas County-based nonprofit is in need of diapers in sizes newborn, 5, and 6, and Pull Ups in sizes 2T/3T and 3T/4T, as well as formula, baby clothing, and infant toiletry, among other items. You could also make monetary donations directly to Babycycle's Hurricane Irma relief fund.
National Diaper Bank Network
According to Huffington Post, the National Diaper Bank Network (NDBN's) is accepting donations to help the organization deliver diapers and other basic need items to families affected by hurricanes, including Hurricane Irma and Hurricane Harvey. You could also donate directly to one of NDBN's affiliates in Florida, which includes Babycycle Diaper Bank.
UNICEF
UNICEF, the United Nations International Children's Emergency Fund, is accepting monetary donations to help the organization's hurricane disaster response. UNICEF staff is already on-the-ground in those Caribbean countries devastated by Hurricane Irma, and will provide support to children in Florida when needed, according to Mashable. Donations will help UNICEF restock supplies, keep disaster relief teams staffed, and provide education and health services in areas devastated by the storm.
Save The Children
According to PBS, Save The Children has mobilized quickly to help families in Florida and the Caribbean islands after Hurricane Irma barreled through the region. The non-profit has set up Child Friendly Spaces (CFS) in shelters "where kids can play, read, and be cared for while their parents deal with the stress of natural disasters," PBS reported. Save The Children has also set up a Hurricane Irma Children's Relief Fund for monetary donations, and will receive a portion of the proceeds raised by the hour-long, star-studded Hand In Hand Telethon. The benefit event raised more than $44 million, according to Deadline, and will help victims of both Hurricane Harvey and Hurricane Irma.
Picking up the pieces after a devastating storm is not easy, and children's organizations can use all the help they can get as they come together to help Hurricane Irma victims recover.
Watch Romper's new video series,Romper's DoulaDiaries:
Check out the entire Romper's Doula Diaries series and other videos on Facebook and the Bustle app across Apple TV, Roku, and Amazon Fire TV.