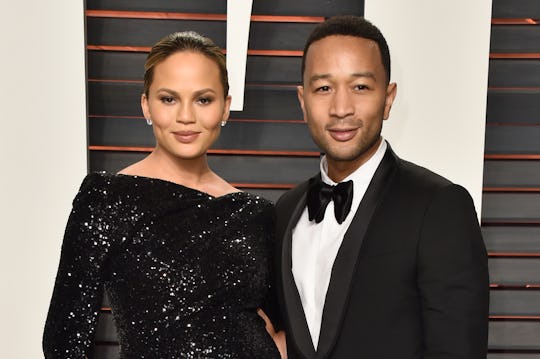 Pascal Le Segretain/Getty Images Entertainment/Getty Images
5 Chrissy Teigen Baby Names That Would Be Perfect For The Couple
Chrissy Teigen and John Legend are going to be parents very, very soon. The couple is expecting their first child in April, and they announced earlier this year that it's a baby girl. Teigen and Legend haven't shared what names they're thinking of yet, so I've come up with five Chrissy Teigen baby names that would be perfect for the couple.
Teigen and Legend have reportedly been compiling a list of baby name possibilities. Teigen told ET Online, "We have a running list on our phones. But we change it everyday. It's why I don't have a tattoo. There's nothing I like for more than 10 minutes." Maybe that just means Teigen hasn't found the right name yet?
There are, of course, a few key people who have been privy to what Teigen's considering. Recently she and Legend asked President Barak Obama what he thought of a baby name. He said that he liked it, though he didn't reveal what the name was — typical! She admitted to Stephen Colbert that she "wanted to ask him because John isn't sold on the name, so I figured if [the president] liked it, then John would be sold on it. He says it's 'too Hollywood.'" But she didn't stop there! Teigen whispered the name in the ear of Colbert himself when she was a guest on The Late Show, and he said he liked it. We don't have much to go on here, except the name is something that Teigen, Obama, and Colbert all like, and that Legend thinks is "too Hollywood." That doesn't really narrow it down at all — but it's something. Instead of guessing though, here are some suggestions for the soon-to-be celebrity parents.
Gramm
Future-dad Legend has won an impressive 10 Grammy Awards for his music in the past ten years. Why not start his child's musical career off on the right foot by naming her Gramm? She's sure to win ALL the awards that way. Plus, it's a pretty cute name: Gramm Legend.
Brie
It's no secret that Teigen loves cheese. She's an accomplished chef, and her cookbook Cravings has been flying off the shelves. Legend even gifted her the above cheese wheel for Christmas last year so that she wouldn't have to worry about running out of cheese anytime soon. Brie, a delicious, creamy cheese, also happens to be a great baby name. Teigen should pay homage to her favorite dairy by naming her daughter Brie Legend.
Michelle
If Teigen and Legend are looking for a baby name that Obama will sign off on, why not Michelle! Michelle is a great name, and Michelle Obama is an amazing person. It's not "too Hollywood," but it has definitely become a lot more glamorous since the First Lady's been in office. Michelle Legend has a nice ring to it, doesn't it?
Ayesha
Teigen met and befriended fellow foodie Ayesha Curry, and they hit it off immediately. Ayesha not be as famous as her husband, who's a professional basketball player, but she's pretty amazing and would be a great namesake. Little Ayesha... not bad!
Audrey
When you think "Hollywood names," you might think of some of the more bizarre celebrity children names, like Apple, Moon Cube, North, Saint, etc., but there's a different direction you could go in. Why not channel classic Hollywood? Few people are more classic that Audrey Hepburn, and the name has been rising in popularity in recent years. Audrey Legend is a powerful name and it's Hollywood in the best way possible.
Hopefully this has given Legend and Teigen some baby-naming inspiration. They've only got a matter of days left before their daughter arrives, so it's time to start narrowing it down. As for what they'll choose in the end? Only time will tell.