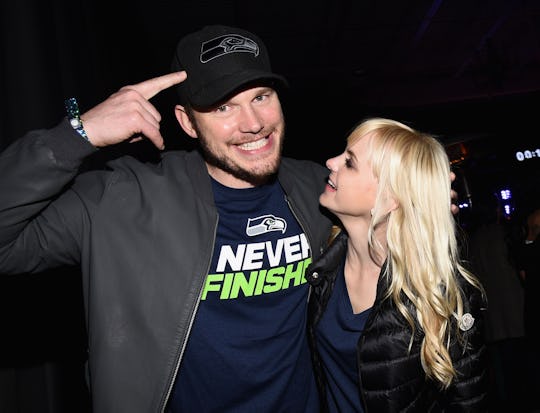 Michael Buckner/Getty Images Entertainment/Getty Images
5 Clues That Anna Faris & Chris Pratt Were Going Through More Than Fans Thought
In the world of celebrity romance, Anna Faris and Chris Pratt definitely seemed like the kind of couple that would go the distance. In addition to being gorgeous and talented and completely hilarious, the two often gushed about each other in interviews and on social media, and their relationship seemed totally solid. But on Sunday, the couple announced in a joint statement that they would be legally separating after eight years of marriage, and looking back, these 5 clues that Anna Faris & Chris Pratt may have been struggling are a reminder that even the most beloved celeb couples aren't immune to relationship trouble.
According to People, Faris and Pratt wrote in their joint statement that they'd "tried hard for a long time," and that they were "really disappointed" that they'd ultimately come to the decision to go their separate ways. They're certainly not the only ones disappointed — social media was full of heartbroken posts following the announcement — but as surprising as the news may have felt to fans of the couple, the separation definitely suggests that, behind the scenes, Faris and Pratt's relationship wasn't as perfect as everyone assumed. And though it obviously wasn't clear at the time, looking back, it doesn't seem like they were ever trying to make it seem like it was.
1. Being A Couple In The Spotlight Was Admittedly Difficult
Even under the best of circumstances, long-term relationships can be challenging. On the surface, it seems like having a Hollywood marriage would be pretty great — you wouldn't have to bicker over paying the bills, you could take luxury romantic vacations on the regular, and being able to hire help with household chores or child care seems like it would eliminate a lot of the stress that most married couples encounter. But while that might all be true, the flip side is that celebrities' relationships often end up becoming yet another element of their lives open for public scrutiny. And that can be hard to navigate long-term.
Although interview quotes and sound bites featuring Faris and Pratt gushing about each other were usually what made headlines, the couple hasn't hid the fact that their celebrity couple status was a challenge. And it sounds like the version of their relationship that the public got to see was only a small part of their actual reality. In July, Faris told People,
I don't think that's something, when you're an actor, that you're prepared for. There are two different roles that you play — the one on-camera and the one in public. That's the tricky part.
2. The Nature Of Their Careers Made Family Time Challenging
As actors, Faris and Pratt are no doubt grateful for their career success, but when you're raising a young child together — their son, Jack, turns 5 this month — it can't be easy to have to contend with work commitments that can mean spending lots of time apart.
On Mother's Day this year, for example, Faris was at home in Los Angeles with Jack, while Pratt was working in London. Pratt shared a sweet Instagram shoutout to his wife in honor of the special day, but any couple who has to grapple with a regularly traveling spouse can attest to the fact that it's doesn't really ever get easy.
Editor's Note: The Instagram post has since been deleted.
One solution the couple seemed to come up with at least? To travel together whenever possible. In April, Pratt posted a photo on Instagram of him and Faris together in Japan, and explained in the caption that she and Jack were able to accompany him while he did promo for Guardians Of The Galaxy Vol. 2:
These press tours can be such a whirlwind. I'm grateful to have you and the boy with me on this one. Although it's 3:00am right now, I was just awakened by a square kick to the back as little man climbed into bed and then must have had a karate dream or something and now I can't sleep. I'm on insta instead. All you dads and moms know what I'm talking about.
3. Being A Solo Mom Isn't Easy
While being away can be hard for the partner who has to travel, it's also really difficult for the one left at home — especially when it means you're on your own as a parent. According to E! News, Faris spoke to actress Isla Fisher in an episode of her podcast, Anna Faris Is Unqualified, in December 2016 and revealed that Pratt's film career meant that, at times, she was left to handle the bulk of the parenting duties. Faris said,
I take pride in how great my relationship is with Chris. Having said that, of course, in this crazy world where he's off doing movies and I'm in L.A. raising our child, of course I'm going to feel vulnerable, like any normal human would.
It also doesn't sound like either of them were particularly thrilled about raising their son in Los Angeles in the first place. In 2015, Pratt told Entertainment Weekly that, although Faris' television career was keeping them in Hollywood, they really wanted a simpler life for their son. He said,
I don't wanna raise Jack [in L.A.]. Anna and I are both from Washington State. We both had pretty simple lives and upbringings. I want Jack to just be able to be like, 'See ya buddy. Go outside. Come back later.' And also, I like the country and clean air and things just slowed down. We will stay in L.A. as long as Anna is doing her show.
4. Navigating Rumors About Their Marriage Was Hard
Another unexpected downside of their career success? Being the target of tabloid rumors. In 2015, the actress told Us Weekly that although she and Pratt had "an incredible relationship," hearing rumors about her own marriage was "weirdly stinging," and that they upset her more than she thought they would. She said,
I had always kind of believed that part of the rumors of celebrity couples were sort of true because they had never been part of my life. I was like, 'Oh, maybe there's a kernel of truth to that.' It's been a little devastating, because for us, it's like, 'What the heck?' This has been blindsiding to us.
A year later she brought the issue up again in her podcast chat with Fisher, and admitted that the tabloid stories had taken a toll:
We grapple with the idea of being a public couple. For the first time, maybe a year ago or 10 months ago, we were in the public a little bit. There were some tabloid rumors about strain on our relationship. I just remember feeling so hurt in a way that bothered me because I didn't want to think of myself as somebody that could be affected by tabloid s**t ... It did make me feel like, 'Is public perception, even though it's false, is there a grain of something?' It made me feel incredibly insecure.
5. Pratt's Career Success Had Its Downsides
Faris and Pratt always seemed super supportive of one another's accomplishments, and also super grateful for each other's support. When Pratt was honored in April with a star on the Hollywood Walk Of Fame, he gushed in his speech about his love for his wife, according to E! News, and honestly, it sounded like they had the perfect marriage. Pratt said,
You've given me so much. You gave me the greatest star in the galaxy in my little boy. I love him and I love you. We have bonded to make this molecule that is more important to me than air or water, and without it none of this means anything to me.
With every challenge, with every day, week, month, decade, we become more bonded. You make me laugh like nobody else. You're very caring, and thank you for your trust and your sacrifice — and for your dedication and your heart. I will do my best to protect it, and in return I will give you all of those things as well. You have my heart, my dedication, my trust.
Faris had just as much to gush about on Pratt's special day, and in a speech of her own, she thanked her husband for being both "the most incredible person and an unbelievable talent." Faris also shared this particularly sweet moment with the crowd:
A while back we were talking about today and you said, 'This is going to be a great moment.' And I said, 'Yeah, it is its going to be an amazing moment.' And then you grabbed my face and you said, 'But the best is yet to come.' So, I thank you. Thank you for letting me speak here. Thank you for being my husband. I love you so much.
As much as their words seemed totally heartfelt and sincere though, in January 2016, Faris told Us Weekly that her husband's film success had its pros and cons for the naturally low-key couple. Faris explained,
We spend a lot of time at home building fires and just cooking and just being together. Just enjoying the simple times too. Now that Chris is, like, a crazy huge movie star, going out is just a whole different thing. It's just a whole different world. We look at each other sometimes and we're like, 'Oh, my God.' Because it just feels very surreal sometimes since we both grew up in Washington state. We just are sort of cherishing these times.
Of course, there's no way of really knowing what led Faris and Pratt to call it quits, and just like most other relationships, it was likely a combination of many things. There's also nothing wrong with the fact that the two were struggling, or that they had issues in their marriage — it would be near impossible to find a couple that doesn't. But looking back at some of the things they've said over the years, it does seem like the public perception of their relationship as being so romantic and sweet and free of the same kinds of ups and downs as the rest of us was unfair, and that perhaps it may have even led to their eventual split.
There's no question that Faris and Pratt's separation is a sad one, and that it came as a big surprise to their fans. But it's also a reminder that while celebrity lives may appear to be ideal, behind it all are still real people juggling issues and feelings that they may not feel they can actually share in public.