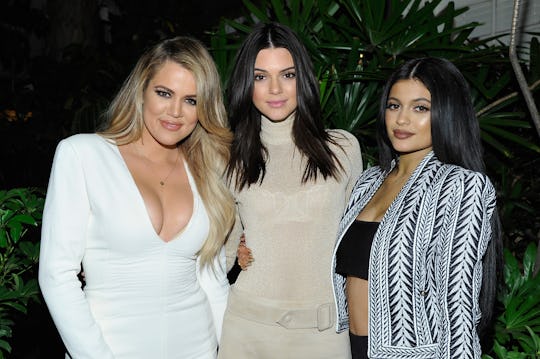 John Sciulli/Getty Images Entertainment/Getty Images
5 Clues That Prove Khloe & Kylie Are Definitely *Not* Pregnant
Every time one of the Kardashians posts a new Instagram photo, or somebody in the family tweets, or when one of the sisters or mom Kris Jenner makes a public appearance, somebody asks about Khloé Kardashian and Kylie Jenner. Rumors that the sisters are pregnant have been flying for months now, despite the fact that neither of them has publicly confirmed a pregnancy. Fans scrutinize every photo of each of them for clues or the indication of a "baby bump," and they pick apart every social media post for hints or hidden messages. But there are actually several clues that Khloé and Kylie are definitely not pregnant after all, and fans can obsess over those just as easily as they can over the latest Instagram photo of Khloé appearing to kind of, sort of, maybe hide her stomach.
First, let's get the facts straight. Kim Kardashian is definitely pregnant via a surrogate. She is expecting her third child with husband, rapper Kanye West, according to Us Weekly. But she is the only Kardashian sister who has unequivocally confirmed that she is, in fact, expecting a baby.
Back in September, news broke that Kylie Jenner is allegedly pregnant as well. Kylie is supposedly pregnant with a girl with her boyfriend, Travis Scott, according to TMZ. But she has not officially confirmed her pregnancy. Khloé also hasn't confirmed that she's pregnant, though CafeMom reported that she hasn't denied the claims. Neither of their representatives have responded to Romper's request for comment.
So let's take a look at a few clues that suggest that these two members of the Keeping Up With the Kardashians camp may not be pregnant after all.
Kylie's Snapchat
In early November, Kylie posted a photo to Snapchat that showed the junk food she was buying at a convenience store, according to Newsweek. The photo included Pringles, Cheetos, Funyuns, and more, but some fans noticed there was something on the counter that shouldn't be there if Kylie were pregnant — tampons.
Of course, the tampons could've been for someone else. Or they might be a really obvious clue that Kylie isn't pregnant after all.
Kylie's Plastic Surgeon
Dr. Simon Ourian, a cosmetic and plastic surgeon who has reportedly worked with Kylie, told Page Six in September that women who are pregnant shouldn't get lip fillers. The outlet noted that Kylie admitted to getting "temporary lip fillers" on an episode of Keeping Up With the Kardashians in 2015, and Cosmpolitan pointed out that Kylie still seemed be "rocking a pretty full pout" as of early October.
Khloé's Halloween Costume
Photos of Khloé and her boyfriend Tristan Thompson dressed as Daenerys Targaryen and Khal Drogo from Game of Thrones for Halloween suggested that Khloé isn't pregnant after all, according to Teen Vogue.
The "verdict" from fans in response to the photos was that Khloé looked so slim in her costume and the photos that she couldn't be pregnant, the publication reported. Of course, pregnancy affects everyone's body differently, and just because Khloé looks thin in the photos doesn't mean she isn't pregnant.
Khloe's Other Instagram Posts
Other photos Khloé has posted to Instagram have made people wonder whether the Kardashians star is really pregnant, including the one above promoting her Good American clothing line.
People were convinced that Khloé has a "bump" in the photo above, but Khloé specifically commented that it's all in the design of the outfit, according to Entertainment Tonight. She responded to the speculation in the replies for the post, and wrote:
This is a peplum shirt. It flairs [sic] out at the bottom. It's just the way the shirt is designed. In some of the next pictures coming up from the SAME shoot, I'm in a crop top. Showing a lot of skin.
And while Khloé didn't technically say "No, I'm not pregnant in this photo," a comment like that, along with other photos where she doesn't seem to have a bump, suggest that she might not be pregnant despite what the rumors may suggest.
The Kardashians' Silence
As stated, both Kylie and Khloé have not publicly confirmed that they're pregnant. That alone could mean that neither is expecting.
But the other Kardashians have kept mum too. Ellen DeGeneres pushed Kris Jenner to confirm the pregnancies during a recent appearance on her talk show, but she didn't do it. Kris also didn't confirmed the news during other appearances or interviews.
And during a recent appearance on The Late Late Show with James Corden, Kim Kardashian West wouldn't confirm her sisters' pregnancies either. Plus, when she appeared on Ellen's show, she still wouldn't spill the beans. When it comes to rumors about her family members, Kim said, according to E! News:
We just decided there's so much that goes on that we respect each other's right to speak for themselves, so I will speak about myself. Hopefully they can come on and address whatever rumors you might have.
So none of the Kardashians have officially confirmed that Khloé or Kylie are pregnant, which is a pretty big clue that they might not be.
Let's be real. If either Kylie or Khloé are pregnant, I can guess exactly when they'll let the public know, and that is: exactly when they want us to know.
Check out Romper's new video series, Romper's Doula Diaries:
Watch full episodes of Romper's Doula Diaries on Facebook Watch.