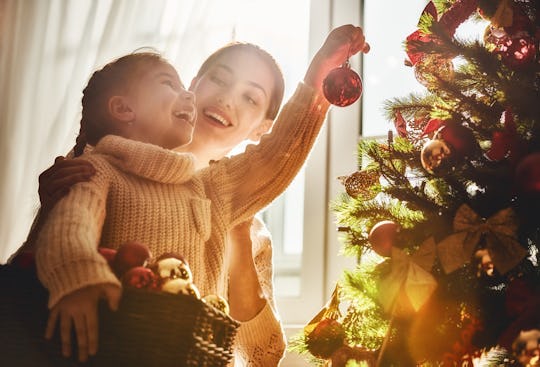 Yuganov Konstantin/Fotolia
5 Cute Ways To Keep Your Kid Away From The Christmas Tree
If you love to decorate, the holidays are a great time to let your imagination run wild. Nothing's more fun than tricking out your house with lots of baubles and bling. But if you have small children, you may be concerned that your tree won't survive the holiday season. After all, who wouldn't want to check out a big, shiny, lighted object that suddenly appeared in the middle of their living room? If you are worried about your curious kid doing damage to your tree, you need to know some cute ways to keep your kid away from the tree.
Letting your small children near your holiday tree could not only end up ruining your holiday decor, but it could harm your little one. Small children can injure themselves on pieces of shattered glass ornaments, electrical wires, or pine needles. This is why it's important for parents to make sure their holiday tree is totally toddler proof.
Fortunately, there are some super cute ideas for keeping your valuable ornaments and holiday lights away from your wee ones. From a decorative wall of faux presents to tiny table top version of your tree, you can keep things fun and festive in your home while keeping your little ones safe.