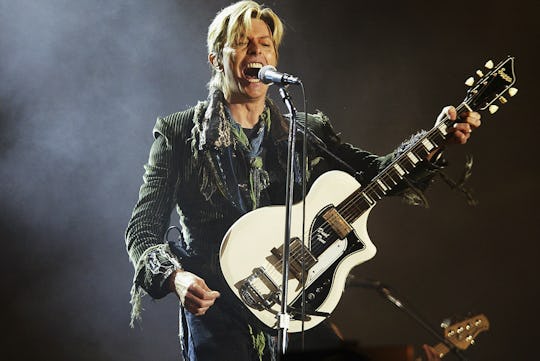 5 David Bowie Tribute Celebrations Around The Country, So You Can Mourn With Good Company
When the sad news broke that David Bowie died at the age of 69 on Sunday, tributes for the legendary musician quickly sprung up around the world. Many mourners flocked to Bowie's hometown of Brixton in the United Kingdom, where his songs were blasted into the streets and faithful fans painted lightening bolts on their faces. Although that seems to be the epicenter of memorials, those of us on this side of the pond still have a few ways to unite for what would surely be Bowie-approved celebrations.
Because Bowie had been quietly battling cancer for the last 18 months and just released his final album, Blackstar, on his 69th birthday last Friday, word of his death came as a shock — even to his peers. Fellow Brit Paul McCartney said of Bowie on his website on Monday: "Very sad news to wake up to on this raining morning. David was a great star and I treasure the moments we had together... His star will shine in the sky forever." Others ranging from Madonna to Kanye West to Marc Jacobs also shared tributes to Bowie, who transcended boundaries of music, fashion and film during his decades-long career.
Social media was permeated with thousands more posts about the star, and it has also offered a way for like-minded fans to find venues to gather. Here are a few of the places you can join David Bowie tribute celebrations in the United States:
Try To Nab A Ticket For Carnegie Hall Show
A concert honoring Bowie and his greatest works has reportedly been in development at Carnegie Hall in New York City for months, but it has taken on a different meaning in light of his death. The organizers said the March 31 Bowie concert will go on, adding, "We are all deeply saddened at this news, the timing of our public on-sale bizarre in its timing, and the show is taking on many more emotions. RIP David and may gods love be with you..."
The Roots, Cyndi Lauper, and the Mountain Goats are among the confirmed performers. Fans might need to work some magic to get in, though: Tickets went on sale Monday and quickly sold out.
Follow Bowie's Tracks Through Manhattan
Bowie made New York City his part-time home since the early 1990s, but his career took him through the town many memorable times before then. Back in 2013, The Independent put together a great tour of NYC spots that were meaningful to Bowie. Stops include his favorite cafe, Dean & Deluca and where he recorded The Next Day.
Sing Along To Bowie In Washington
On Saturday, the Highline Bar in Seattle is hosting a special tribute and sing-along evening for Bowie. Among others, promised plays include "Space Oddity," "Man Who Sold the World," "Changes," "Queen Bitch," "Andy Warhol," "Five Years," "Hang on to Yourself "and "Ziggy Stardust." Unlike the Carnegie Hall concert, this one isn't sold out and is free (with a suggested $5 donation).
Wear Your Bowie Best In Colorado
If fans happen to be in the Mile High City Tuesday night, they can stop by Denver's Local 46. The bar will allow people to use its piano to play some of Bowie's music, although the bar suggests wearing "a Bowie-related costume." It added of the event, "We'll raise a glass to a true innovator who blurred the lines of artistic mediums, the standards of rock music, gender rules, sexual identity, and social boundaries."
Rewatch 'Labyrinth' In Wisconsin
If it's been a while since fans reveled in the '80s magic of Labyrinth, they can go remember why Bowie was so much more than a musician by watching the trippy Jim Henson movie at the OutReach LGBT Community Center in Madison, Wisconsin on Sunday. As the event organizers said, "To say he had a giant impact on music and the world doesn't seem to go far enough. David Bowie showed the world that being yourself, whatever that means to you, is a beautiful thing."
At the very least, put on some of Bowie's best songs — and there are plenty to choose from! — and take a cue from the legend by striving not to be boring.
Images: Jo Hale/Getty Images Entertainment/Giphy (3)