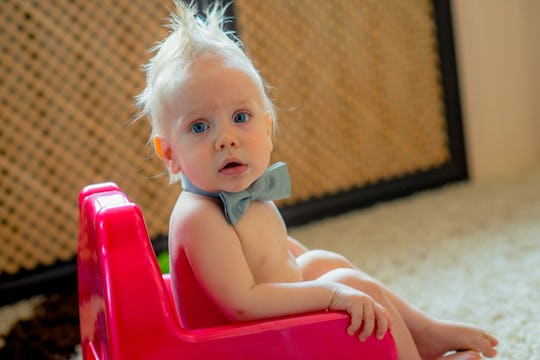 sushytska/Fotolia
5 Differences Between Potty Training Boys & Girls, According To Experts
By the time your little one shows interest in transitioning from diapers to underwear, you've probably already started your seemingly endless potty-training research. You know all about the sticker charts, the whole "bribing with candy thing" and the 3-day potty training method (although, to be fair, you're skeptical). And while there's no one "right way" to potty train a child, there are differences between potty training boys and girls that are helpful to know before you embark on this pee-filled journey. You know, to keep your expectations in check.
Now before we get all "men are from Mars, women are from Venus" about it, please know that Dr. Tanya Remer Altmann, M.D. tells Pampers that one important similarity, regardless of your child's sex, is that both boys and girls should first learn how to pee by sitting on the toilet. Why? Well, because it's easier. It's only when your son is capable of "holding it" until he makes it to the bathroom, and can control his "stream" while aiming, should you consider moving him to a standing position. And because potty training is a "developmental task," according to the American Academy of Family Physicians (AAFP), you shouldn't start the process until your child reaches around 24 months of age, and, again, regardless of their sex. Beginning too soon — before your child is developmentally ready — may create more setbacks and frustration.
So while there might be some subtle differences between potty training boys and girls, there's one thing every parent should remember before they start the process (regardless of which method you choose or who you're potty training): if your child isn't ready, they're not ready. Every kid is different, which means every attempt at potty training will be different.