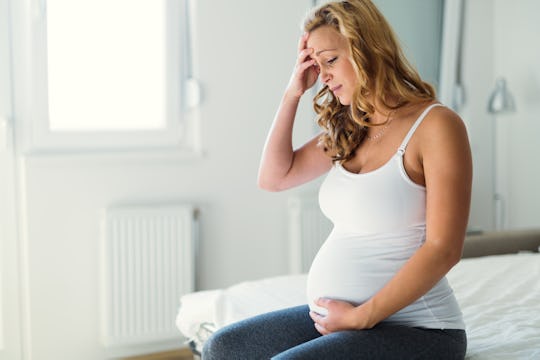 nd3000/Fotolia
5 Early Signs Your Third Trimester Is Going To Be Brutal, So You Can Prepare Now
The second trimester may be called the "Golden Trimester," but no such name is given to the third trimester, and there's a reason for that. Even for women who claim to have an easy third trimester, there's still the waddling and the fact that you can no longer see your feet. But for those who have difficult third trimesters, those weeks can feel truly endless. Luckily, there are some early signs the third trimester is going to be rough, so you can prepare for the grueling weeks ahead.
With my second pregnancy, I had some cervical changes than my OB was concerned with so I was put on "modified bed rest." That term might sound official, but I found it extremely vague. I was supposed to scale back my activity and not lift anything (almost impossible with a 2-year-old). Any time I did even basic things — like taking the subway to work —  I feared that I was overdoing it. Because of the ambiguity that comes with modified bed rest, I was utterly terrified throughout most of my third trimester that I would do something to cause preterm labor. Every day that passed, I was relieved that I was one step closer to my due date. It took a real toll on me mentally.
In the end, I made it to 38 weeks and all was fine, but it was a trying time to say the least. Here are five more signs that you might be in for a tough third trimester, though it's important to note that every pregnancy is different. If you feel like something isn't quite right, it's always best to consult your OB.