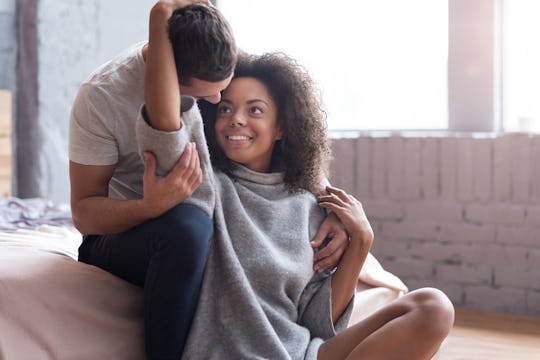 zinkevych/Fotolia
5 Easy Postpartum Sex Positions That Will Help You Ease Back Into Intimacy
Sex after having a baby can bring up a lot of emotions. Maybe you're intimidated, nervous, or even scared to see what it will feel like after such a life-changing (and body-changing) event. Maybe you're eager to be intimate again (after all, there is nothing sexier than seeing your partner become a parent). Either way, now that the recommended four to six weeks have passed, it's time to get back on that horse. Whether you're eager or apprehensive, there are things that will help make the overall experience easier and more enjoyable. These five easy sex positions for postpartum will help you and your partner ease back into sex and enjoy each other as much as you did 9+ months ago.
Of course, the best thing you can do before going at it is talk to your partner about any of your concerns or worries. You've healing from a major event — no matter how you delivered your baby — and your emotions are undoubtedly amped up, too. It's important for both parties to be understanding and gentle. Dr. Michael Aaron, a psychotherapist specializing in the field of human sexuality, tells Romper, "I think men especially need to keep in mind that a woman may feel fragile postpartum as she has just gone through a lot of body changes. She may be self-conscious about her new body, and depending on how she had her delivery, she might not have healed fully. So he should keep that in mind and be supportive and gentle and make her feel comfortable. For similar reasons, many new moms would probably want to take it slow. They should listen to their bodies and not put any unnecessary pressure on themselves."
By communicating honestly with your partner and voicing any concerns you might have, you can both work together to make it a perfect sexual reunion.