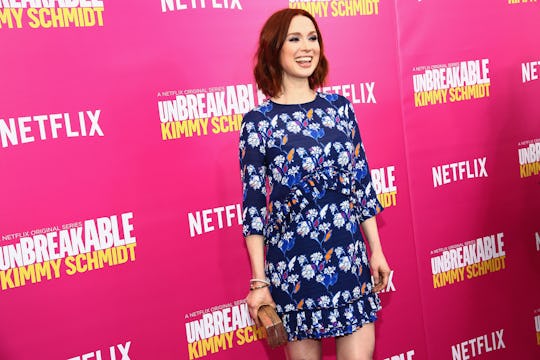 Astrid Stawiarz/Getty Images Entertainment/Getty Images
5 Ellie Kemper Quotes About Becoming A Mom
On Monday, Michael Koman and Ellie Kemper welcomed their first child. The 36-year-old star of Unbreakable Kimmy Schmidt announced her pregnancy on The Tonight Show back in April when she admitted to host Jimmy Fallon that she had told Tina Fey she was pregnant before she even told her mom.
Since she was still filming Kimmy Schmidt, she needed her boss to know that she wasn't comfortable riding a roller coaster for a scene in the season's final episode. She and Fey decided to tell the rest of the cast and crew that Kemper had a back injury — which Kemper found it very difficult to lie about and she almost blew her cover several times (especially at the wrap party where she forgot all about her "strained spine" and was dancing with costars — until someone pointed out she must be feeling better and she lamely said that the doctor had suggested dancing would be good for her — a perfectly Kimmy response).
Since then, she's given several interviews and has been delightfully open about first-time motherhood. The actress has chatted with Stephen Colbert, Ellen DeGeneres, and TODAY's Willie Geist all about her excitement, nerves and plans (or lack thereof!) for her first baby. Here are some quotes that pretty much any first-time mom can relate to.
On Being A Healthy Pregnancy
Kemper told Stephen Colbert when she appeared on The Late Show:
I'm a little disappointed in myself because before getting pregnant I resolved to do all these things during my pregnancy, to nurse a healthy pregnancy — and I'm finding in these final weeks that, uh, I didn't do any of them. Like, playing classical music to my kid, reading War and Peace to my kid.
Kemper also told Colbert that she bought a ton of sardines, thinking they were supposed to be a good pregnancy snack staple with all their Omega-3 fatty acids — except she hates sardines. Still, when Colbert offered her some, she ate them in the spirit of trying to be as good of a mom as her mom. This won't be her mom's first grandchild (Kemper's brother has three kids) but it will be "her first grandchild from me," Kemper told Colbert, and her whole family is very excited.
On The Pregnancy Bump Craziness
When she appeared on Ellen, Kemper shared her thoughts about "baby bumps":
I'm really excited! I'm not nauseous, I feel good. Both my husband and I are very excited. I'll tell you one interesting thing: as I began starting to show, I would notice people looking at my stomach, like kinda knowingly looking at me like I know your secret! And I started getting slightly annoyed, because like, when I woman's stomach starts to bulge it's like — you must be pregnant! But I was taking a close look at guys, and like, men have baby bumps all the time! And I'm like, I know your secret, man, you ate too many Cheetos.
When she was on the TODAY Show she joked that she timed her pregnancy to coincide with the press tour for Season 2 of Unbreakable Kimmy Schmidt. She also shared a fun story from the set: during shooting the cast had been hypnotized and she'd wished to no longer be "addicted to ice cream." Thinking it hadn't worked, she went right home that night and had her normal pint of ice cream before bed.
But during her first trimester of pregnancy?
"I couldn't look at ice cream, is that crazy?!" But she eventually regained her taste for the sweet — especially Ted Drewes Frozen Custard (which the TODAY Show hosts brought in special for her, since it's from Kemper's home state of Missouri).
She gained a few other cravings, too. Namely: Barbecue chips.
When she appeared on The View, she told the hosts that she and Kohman were more "erring on the side of under-planning" than over-planning when it came to their first baby:
Everyone keeps asking have you taken care of this? Have you thought of this? And we're just like no, no, no. We don't know if it's a boy or a girl — we don't want to know until we find out and we're like — does that make us bad parents?! Do we not care enough?! I think that other moms in particular love to weigh in on what you should be doing, and it's all news to me. I welcome the advice, but I have not been planning ahead!
She said the one piece of advice she was getting a lot of — often conflicting opinions, too — was about the baby's sleep, according to The View.
Everyone has an opinion on how you should raise your child to sleep. And I'm like, the child isn't even here yet! I don't even know how. . .and a lot of people say you should get them on your schedule right away and it's like. . .it's an infant, how can you get them on your schedule? It doesn't have a watch!
More recently, Kemper told TODAY that she wasn't a big fan of "belly touchers,"
I don't know what goes through a person's mind, a stranger's mind no less, when they think Ah yes, your stomach is something that now belongs to me, and I can touch it! I mean it's actually crazy — in a way I think it's a nice reminder of humanity, but then quickly back to the idea that you wouldn't do this if I wasn't pregnant.
And when she was on Late Night with Seth Meyers she offered up a little advice for new parents — which, now that her baby has arrived, she will probably harken back to — like "when you're breastfeeding, remember to use your breasts."
Here's hoping we'll get some adorable baby pics, soon!