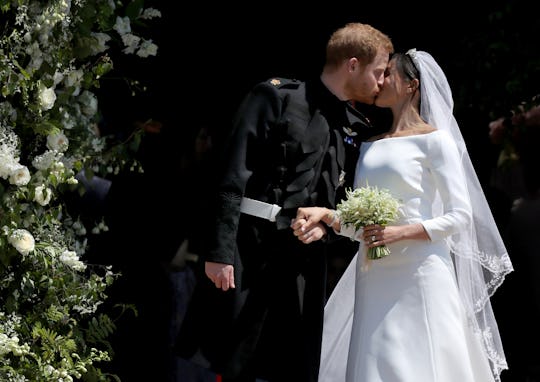 WPA Pool/Getty Images Entertainment/Getty Images
The Queen's Wedding Gift To Harry & Meghan Is *Way* Better Than What Your Grandma Got You
It's always difficult to decide on a wedding present. Should you pick something that's a personal favorite? Or go directly off the registry for the bride and groom? Queen Elizabeth II has done the former, but on a much, much grander scale. In fact, she reportedly opted to give newlyweds Prince Harry and the Duchess of Sussex, Meghan Markle, a wee bit of real estate. And if you're curious, these few facts about York Cottage, the property queen reportedly gifted the couple, prove just how extravagant of a wedding gift it is.
The cottage is on the grounds of the Sandringham estate, a 20,000-acre private getaway located in Norfolk, England that has been in the royal family for more than 150 years, according to The Enchanted Manor. Queen Elizabeth II's father died in his sleep at Sandringham, according to the website, and every year the queen retires to the estate around Christmas and stays through February, celebrating the anniversary of her father's death and her coronation quietly with family.
The website for Sandringham notes that there are more than 150 buildings on the grounds including residential, commercial, and agricultural properties. Farming, horse breeding and conservation all take place side-by-side on the grounds. The Duke of Edinburgh is in charge of Sandringham and has takes the work of preserving the grounds for future generations very seriously, according to the royal family's website.
York Cottage is just one of the residences on Sandringham and here are a few things to know about the Duke and Duchesses new country getaway.
1. It Will Likely Belong To Prince Harry & Meghan Markle
The queen only owns two residences privately — Sandringham and Balmoral Castle in Scotland — everything else is official property of the crown, according to Town & Country. Though the newlyweds live full-time in Nottingham Cottage at Kensington Palace, that is their official residence and it does not belong to them. As a private gift, ownership of York Cottage should pass on which would make it the private property of Prince Harry and Markle, as Prince William and Kate Middleton have their own property.
2. It Is Said To Be "Haunted"
Prince Albert Victor, known to the family as Prince Eddy, lived in York Cottage in the 1890s, according to House Beautiful. He died there at just 28 years old during an influenza outbreak and his room and belongings were kept exactly as he left them, as House Beautiful noted. Water in a jug in the room was even continually refreshed, according to the magazine.
This went on for so long that children who grew up in the cottage felt like they were living with Prince Eddy's ghost and couldn't wait to leave, according to the Daily Mail. So the haunting isn't so much about an actual ghost, but perhaps a memory that was never allowed to fade.
3. It Was Called "The Bachelor Cottage"
Originally built to house male guests who were visiting the estate, the cottage was first referred to as "The Bachelor Cottage," as The Telegraph reported. When the Duke and Duchess of York — Queen Elizabeth II's grandparents — moved there it was renamed for them, according to Harper's Bazaar. They were given the cottage as a wedding gift and stayed until the duke's mother, Queen Alexandra, passed away, as Harper's Bazaar reported.
4. It's Housed Some Of The Estate's Staff
This new ownership of the cottage is going to displace a few people. The cottage is currently the location of staff offices for Sandringham, according to the Daily Mail. The paper noted that a portion of the building has also been converted into apartments for people who work on grounds. So not only will it need to be renovated for Prince Harry and Markle, it seems like new living and office space will need to be chosen for staff.
5. They Won't Be Far From Prince William & Kate Middleton
Not only does Queen Elizabeth take her Christmas break at Sandringham, Prince William and the Duchess of Cambridge, Kate Middleton, also own property there. The queen gave Anmer Hall, another residence on the estate, to the couple when they married in 2011, according to Metro. They chose to return there when Prince George was a baby and moved back to Kensington Palace when Princess Charlotte started school, as Metro reported. So not only will the brothers and their families be neighbors in London, their country getaway homes are just a stone's throw away. Perfect for cousin playtimes down the line, right?
Queen Elizabeth may have gone against the couple's wishes to donate to charities in lieu of wedding gifts, but the new couple has to be thrilled with this generous present. Here's hoping they drive out all the "ghosts" and make a lifetime of happy memories.