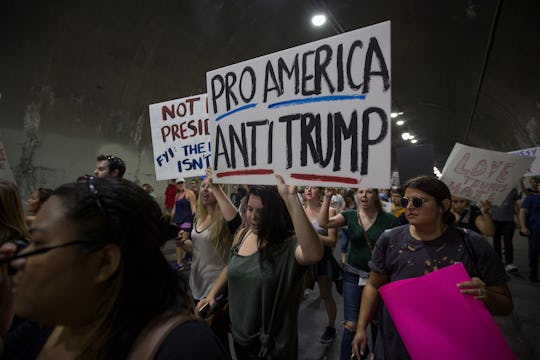 David McNew/Getty Images News/Getty Images
5 Family Organizations To Support, Volunteer With, & Donate To After The Election
In light of the election results on Nov. 8, many families across the United States are feeling especially vulnerable. Considering that President-elect Donald Trump has threatened to deport millions of Americans, ran on a strong anti-LGBTQ platform, and shared racist, xenophobic views, you may feel the need to do more than usual to show your support. While some have been wearing safety pins as a sign of solidarity, you'll do a lot more good by supporting certain family organizations by volunteering, donating, or sharing their messages.
American families from Muslim, LGBTQ, African-American, and Latinx communities are all feeling the shockwaves from Election Day — and rightfully so. During his campaign, Trump called for a "total and complete shutdown of Muslims entering the United States," and said the Black Lives Matter movement was "looking for trouble." His vice president-elect is a man who has routinely thrown LGBTQ issues under the bus: Mike Pence has advocated against marriage equality, did not want to repeal the military's "Don't Ask, Don't Tell" policy, shot down an anti-discrimination law that would protect LGBTQ in the workplace, and supported North Carolina's anti-transgender bathroom bill. Trump accused Mexican immigrants of being "rapists" who bring drugs and crime into the United States before saying some "are good people."
Keeping in mind some of the vulnerable communities who may face a difficult time under a Trump administration, here are five organizations you should consider supporting.
Planned Parenthood
Planned Parenthood has had a bad year, y'all — but it could get worse under a Trump presidency. During his campaign, Trump threatened to cut federal funding to the organization if it doesn't stop providing abortions for women.
Not only does Planned Parenthood provide men and women with family planning, it provides affordable, sliding-scale health services for entire families, and many depend on the services it provides. Sign the pledge to defend Planned Parenthood; donate to help it keep running, with or without federal funds; or volunteer at your local Planned Parenthood.
American Civil Liberties Union
The ACLU has kept a close eye on Trump's campaign promises, and in an open letter published on Nov. 9, the organization urged Trump to reconsider his "plan to amass a deportation force to remove 11 million undocumented immigrants; ban the entry of Muslims into our country and aggressively surveil them; punish women for accessing abortion; reauthorize waterboarding and other forms of torture; and change our nation's libel laws and restrict freedom of expression."
The ACLU is a non-profit that works to protect the rights of every American, and it has promised to fight any unconstitutional move Trump makes — from breaking up immigrant families to banning groups of people from the country. Take action on one of the ACLU's campaigns or donate to help fund its causes.
Border Angels
Border Angels is an all-volunteer organization that works to provide border rescue stations along the United States-Mexico border, free immigration consulting in English and Spanish, and education programs that address the issues undocumented immigrants face. Volunteer with Border Angels or donate to support its cause.
Human Rights Campaign
HRC is the largest national LGBTQ civil rights organization, and it advocates for equality regardless of gender or sexuality. It fights for equal rights and benefits, progressive policies, and public support, and works with Americans of all ages. Donate or volunteer to help it continue its work.
Center For Community Change
The Center for Community Change empowers low-income communities — especially low-income communities of color — to tackle public policies regarding jobs, wages, immigration, affordable housing, racial justice, and employment barriers. Share your story with the Center for Community Change or donate to help it empower communities.
The election results on Nov. 8 left many people feeling powerless — but getting involved and supporting non-profits that advocate for vulnerable communities is one of the best ways to support those who need it most.