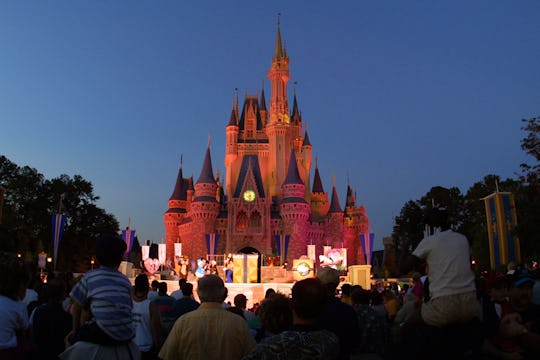 Joe Raedle/Getty Images News/Getty Images
5 Fascinating Ways Disneyland Affects Your Toddler's Brain, According To Science
As any parent who's been forced to hoist a wailing toddler over one shoulder after a long day at the zoo/museum/amusement park knows, sometimes activities that are supposed to be fun for little ones end up being way more than they're ready to handle. While this is never an enjoyable experience, it's a lot less painful when it happens at a local attraction than at a pricey destination like The Happiest Place on Earth. So is it even worth it to fork over the cash for an all inclusive stay? How does Disneyland affect toddler's brains, exactly?
To be fair, you're probably not thinking about synapses and brain cells when you start comparing airfares and hotel packages. Your main concern is most likely whether or not your toddler will have fun. Will he get super cranky when he has to wait in line? Will he love meeting Mickey or will he be one of those kids who's terrified of costumed characters? Will his nap schedule get so out of whack that none of you will sleep until you get back home? In terms of stimulation, your main concern is probably overstimulation (the kind that turns your tot into a puddle of misery). But it could be that too little stimulation is worse than too much. In fact, science says that a wide variety of stimuli is key to healthy brain development in young children, which happens in conjunction with the development of sensory perception and motor skills.
Research conducted at the Norwegian University of Science and Technology suggests that even young babies should be "challenged and stimulated at their level from birth onward," as Science Daily reported. And as researcher and neuroscientist Audrey van der Meer explained, young children "need to engage their entire body and senses by exploring their world and different materials, both indoors and out and in all types of weather" to be exposed to enough stimuli.
There's no question that Disneyland (or Disneyworld, of course) offers more than enough engaging outdoor excitement for all the senses. Now, how exactly does all that stimuli affect your toddler's brain? Let's just say you'll be getting your money's worth out of this trip for sure.