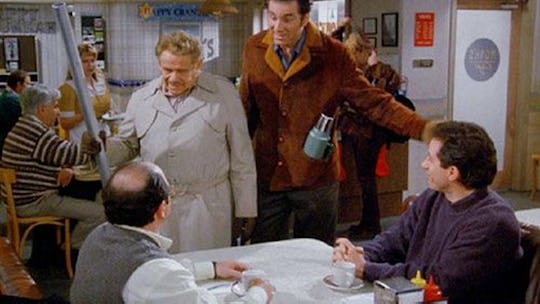 5 Festivus Memes That Will Get You Into The Anti-Holiday Spirit
As the world prepares for Christmas — readying the house, prepping food, and wrapping presents — it's important to remember what this season is really about: The airing of grievances. That's right, folks. Today is December 23, marking the beginning of Festivus. For those who do not know, Festivus is a secular holiday created to serve as an alternative to the commercialist Christmas season. It was once described by Allen Salkin of the New York Times as "the perfect secular theme for an all-inclusive December gathering." And although it began as a family tradition for Dan O'Keefe — a scriptwriter for Seinfeld — the holiday became a cultural phenomenon after it made its debut in a 1997 episode entitled "The Strike."
But what, exactly, is Festivus? Well, in short it is a holiday celebration which includes a Festivus feast — i.e. meatloaf or pasta in plain, red sauce — an unadorned, aluminum Festivus pole, and practices including the "Feats of Strength" and annual "Airing of Grievances." (And if you have no idea what I am talking about, or haven't seen the episode, do yourself a favor and stream it on Hulu STAT. The more I explain it, the less funny it will become...trust me.)
So in the spirit of Festivus, and to further explain the fabulous winter holiday, here are five hilarious, on-point Festivus memes.
Oh, Snap: You've Been Burned Thor
With a little bit of Festivus love — and a whole lot of innuendo — this meme made me smile way too much.
Seinfeld + Star Trek = A Match Made In Heaven
I mean, a picture is worth a thousand words but this? Well, this meme boldly goes where no meme has gone before.
Seinfeld + Star Wars = Even Better
Tis the season for Star Wars and Festivus. (And, IMO, this is perfect.)
Keeping It Classic
This meme is perfect for the Festivus virgin. Sure, it isn't side-splittingly funny, but it gives you a great idea what this holiday is all about.
Chuck Norris Being, Well, Chuck Norris
Need I say more? I mean, this is awesome. Just plain awesome.
Now go celebrate, and air your grievances.
Images: Warner Bros.