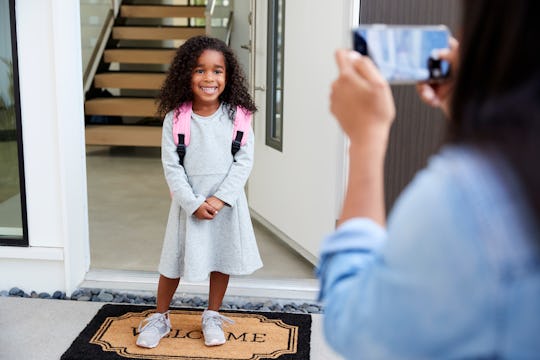 Monkey Business Images/Shutterstock
5 First Day Of School Traditions To Help Your Family Start The Year Off Right
For kids, anticipating the first day of school can feel like an emotional rollercoaster. There's excitement about reuniting with old friends and making new ones, but there's also anxiety about heading into the great unknown and not knowing what to expect for the new year.
Whether your kids are going from pre-K to kindergarten or transitioning from middle school to high school, no one is immune to back-to-school nerves — including parents.
One fun way to calm jitters and amplify excitement? Establish traditions that get kids pumped for new experiences and leave them feeling prepared for anything that comes their way. To help your family start the year off right, Romper teamed up with Boost Mobile to bring you a list of first day of school traditions that you can look forward to year after year.
1. Say Goodbye To Summer With An Epic Feast
What better way to bid farewell to the summer months than with an out-of-this-world dinner? Whip up something exciting that's not in your usual dinner rotation, like lobster mac and cheese or fried chicken. If cooking's not your thing (or if you're in need of a break after those long three months of summer), take your family out to dinner at your favorite special occasion restaurant.
Encourage kids to spend the meal talking about their favorite experiences from the past summer, plus the things they're most excited about for fall.
2. Make A Game Out Of Establishing Technology Guidelines
In today's era where technology rules, it's a good idea to get on the same page about how your family interacts with phones and computers. Turn this refresher course into a game by creating flashcards with questions like, "How many hours of screen time do we get on weeknights?" and "What's our family rule about texting before homework is done?" Reward correct answers with candy and your kids won't even realize they're learning valuable information.
And if the time has come to invest in phones for your kids, make a point to get everything set up and in good working order before school starts. Boost Mobile's four lines for $100 per month plan provides unlimited data, talk, and text, plus you also get 4 free LG Stylo™5 phones when you switch, so your kids - and your wallet - will be happier than ever.
3. Start The Day With A Party
When it comes down to it, the first day of school should be a celebration — of a wonderful summer and of a new school year that's basically a blank canvas for kids to paint amazing experiences on.
So, plan accordingly! Surprise your fam with a house fit for a party, including streamers and balloons in school colors, silly party hats, and maybe even some confetti cake with their breakfast.
4. Set School Year Goals Over Breakfast
Help kids get ready to take on the day — and the year — by doing a fun goal-setting activity during breakfast.
Give everyone a piece of paper and colorful markers to write out (or illustrate!) the thing they want to accomplish most this year, whether it's earning a spot in the school play, or making new friends in class. Post all the papers near the front door, so your kids are encouraged to achieve their school year goals every morning.
5. Plan A Lunchtime Surprise
Halfway through their first day, kids could be feeling any type of way. Planning a lunch that's wonderfully unexpected is sure to make them smile, no matter how their first day back is going.
When they leave in the morning, tell kids that you haven't had the chance to pack their lunches yet, and will drop them off later. Then, when noontime rolls around, drop off their favorite takeout meal. No matter if that's cheese pizza or noodles from your local ramen place, your thoughtful gesture will make for a surprise they'll never forget.
This post is sponsored by Boost Mobile.