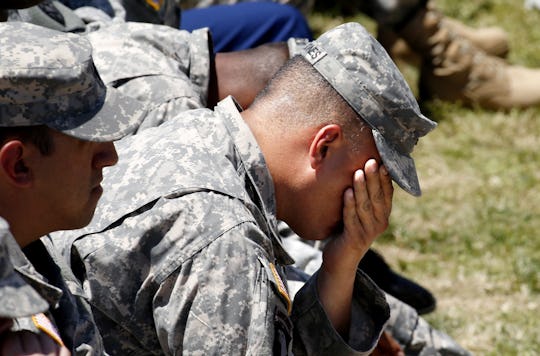 Erich Schlegel/Getty Images News/Getty Images
5 Fort Hood Soldiers Killed in Texas Floods Were On A Regular Training Run
Heavy rains and flooding in Texas have tragically claimed the lives of several Army personnel. During a regular training run on Thursday, five soldiers from Texas' Fort Hood base were killed when the vehicle they were driving was overturned at a low water crossing, according to The New York Times. There are still four service members missing.
Intense rainfall has been plaguing Texas for days and has further compounded the search efforts for the four soldiers. The incident took place just 12 miles north of Fort Hood, according to The Times, and search parties are currently looking for the missing soldiers by land, sea, and in the air. Three other soldiers pulled from the water are currently recovering at a base hospital in stable condition.
The incident reportedly took place just after 11 a.m. local time on Thursday. Three of the deceased soldiers' bodies have been recovered downstream from their vehicle. The names of the deceased have not yet been released; Authorities have said public announcement is pending while the families are being notified, according to a statement from Fort Hood.
Fort Hood spokesman Chris Haug told The Times that flooding was believed to have caused the truck to flip over and that the soldiers were tragically performing a task "they do everyday," Haug said. He added that there had been concerns about flooding in the area and that another road, a paved one in the area, had to be closed. The Light Medium Tactical Vehicle carrying the soldiers was traveling on a dirt road that ran parallel to the paved one that was closed and was attempting a crossing at a low water mark when the truck was swept away. The truck, according to a description by Time, "resembles a flatbed truck with a walled bed and is used to carry troops."
Maj. General John C. Thompson III, the 1st Cavalry Division released a statement following the accident, saying,
We are deeply saddened by the loss of several Troopers and continue search operations. Your thoughts and prayers are greatly appreciated during this difficult time as we care for the families, loved ones, and fellow soldiers of those impacted by this tragedy God Bless the First Team.
Search and rescue operations are focused on the area surrounding the Owl Creek low-water crossing and East Range Road, Fort Hood officials said.
Texas Gov. Greg Abbott released a statement on the tragedy saying, "Texas stands ready to provide any assistance to Fort Hood as they deal with this tragedy."
Time reported that Fort Hood has received nearly three inches of rain since Wednesday. With a new round of storms on the way, the area could see an additional 10 inches of rain, making flooding conditions worse and possibly complicating rescue and recovery efforts further.