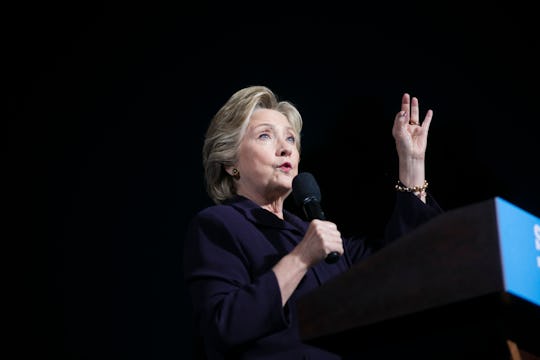 Maddie McGarvey/Getty Images News/Getty Images
5 Funny Hillary Clinton Costumes For Babies Who Are With Her
Unless you've been living under a rock, you've been inundated with sound bites and viral clips from this year's presidential campaign. And no matter which candidate you're planning to support in November, you can't deny that the actions of both candidates have helped shape some pretty funny Saturday Night Live skits. If you want to get in on the action and poke a little fun at the political process, you'll want to check out some funny Hillary Clinton costumes for babies.
Whether you consider yourself a Democrat, Republican, or none of the above, your sense of humor doesn't have to have a party affiliation. At Halloween, all candidates are fair game. And if you have a baby, this is the perfect year to dress your little one as the first female presidential candidate from a major political party. You can make your own simple, DIY Hillary-inspired costume with little more than a pint-sized version of her classic red or blue pant suits. But if your baby prefers to dress down, there are plenty of Hillary onesies out there.
So whether you're paying homage or taking a shot at her, you don't want to miss the chance to dress your baby in a totally hilarious Hillary costume this Halloween.