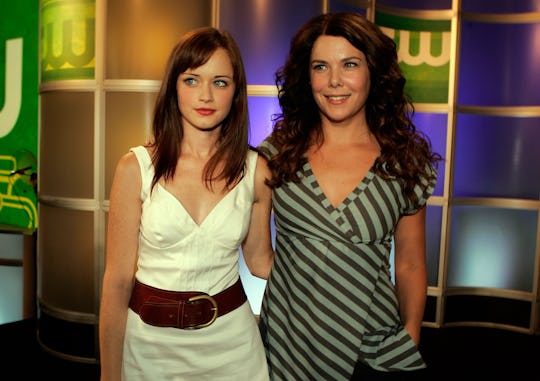 Kevin Winter/Getty
5 'Gilmore Girls: A Year In The Life' Theories Based On Everything We Know So Far
There are approximately 115 days until Gilmore Girls: A Year in the Life and I haven't been this excited for something to come out since the final part of Harry Potter and the Deathly Hallows. As it turns out, I am not alone. The internet in general is losing it's collective mind and has been churning out spoilers, theories, and set photos like there's no tomorrow. With the arrival of the first teaser trailer and -- finally! -- a release date, speculation about the beloved series has reached a fever pitch. So here are five theories about Gilmore Girls: A Year in the Life speculating on what's about to happen to our girls in 2016, with their love lives, careers, friendships, and of course their unshakeable bond (Season 6 notwithstanding).
Let's begin with what we know so far. Show creators Amy Sherman-Palladino and Dan Palladino never had any intention of pretending that Season 7 never happened, even if perhaps it shouldn't have, and Luke's daughter April will be a part of the show, as will Lane's now 9-year-old twin boys. All of Stars Hallow will be there, including Babette, Miss Patty, Kirk, Taylor, Michel, Rosie, and all three of Rory's ex-boyfriends. Liza Weil will be reprising her role as Paris for only two episodes, and Sookie will sadly only appear in one scene. With all the background info set up, and as a card-carrying Gilmore Girls Superfan, here is what I predict is coming up next.
The Series Will Start Right After Richard Gilmore's Funeral
Sadly, acting legend Edward Hermann passed away shortly before filming began for the Gilmore Girls revival, which deeply touched the lives of the people who worked with him, as well as the characters his co-stars portrayed. Pretty much everyone involved in the series has said that the Palladinos were committed to honoring his memory with the show, as well as honoring the character. Emily, Lorelai, and Rory will all be profoundly affected by the loss of Richard, and this moment will necessarily jumpstart a turning point in all of their lives. It is a time for them to reunite and come together as Gilmore Girls, putting aside old grievances, and perhaps creating new ones, as death tends to do in families.
Rory Will Begin Teaching At Chilton
We all hoped Rory would become the next Christiane Amanpour, which was always her ambition, but ambitions change. In fact, we've seen them change in Rory herself. Remember when she always wanted to go to Harvard but wound up going to Yale instead? It's possible that Rory found that she didn't actually want to become a journalist, but instead decided to devote herself to sharing her deep love of literature, her greatest passion. It's not what we expected, but it's a reasonable career step for her. This theory is of course bolstered by the set photos that showed Rory standing in front of a classroom at Chilton, as well as the confirmed reappearance of Headmaster Charlton. Casting calls also reveal that a new character will be introduced, a nice guy in his 30s. I predict that he will be a fellow teacher at Chilton who is interested romantically in Rory. Furthermore, I think he'll end up a friend à la Marty, and Rory will choose someone from her past.
Paris & Doyle Will Be Getting Married
We know there's going to be a wedding. We know that lots of Gilmore-verse Yale alums will be appearing in the revival. And we know that Paris would make the most delightfully exasperating bride-to-be that television has ever seen. Can you just imagine the horrors that poor wedding coordinator would have to endure? She will of course be brought down to Earth with one of Lorelai Gilmore's world-famous pep talks.
Lorelai & Luke Will Not Get Married
I mean I still think they're together. Some reports say that Lorelai is married, but there is no ring on her finger in the teaser trailer. Lorelai isn't exactly one for tradition, but the woman loves a good piece of jewelry. I think instead they'll have decided that marriage just isn't their thing, and live happily and relatively drama-free together.
Rory Will End Up With Jess
Because #teamJess 4ever