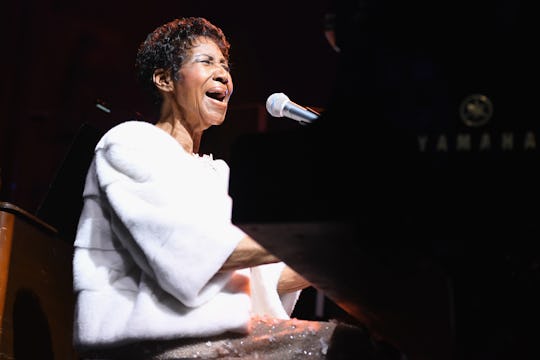 Dimitrios Kambouris/Getty Images Entertainment/Getty Images
5 Iconic Aretha Franklin Quotes To Honor Her Legacy
When it comes to the most famous singers of the century, Aretha Franklin's name tops the list. With an illustrious career as the voice of some of the most outstanding soul music that the world has ever known, Franklin was not only a performer, but an inspiration to so many. That's why when news broke that she was "gravely ill" and then that she had ultimately passed on August 16, the world entered mourning. Across the globe, people honor the departed singer by listening to her music or perhaps remembering some iconic Aretha Franklin quotes.
Romper's request for comment from Franklin's representatives was not immediately returned.
On Monday, Fox News reported that an individual close to the singer confirmed she was "gravely" ill, but that she was surrounded by friends and family. Back in March, Rolling Stone reported that Franklin had to cancel a number of concerts and events due to her health conditions. "Aretha Franklin has been ordered by her doctor to stay off the road and rest completely for at least the next two months," her management told the magazine in a statement. "She is extremely disappointed she cannot perform at this year's New Orleans Jazz & Heritage Festival as she had expected and hoped to."
Of course, this may not come as a surprise to fans, as Franklin had already communicated that 2017 would be her last year performing. NPR reported that the singer announced she would be retiring from music, instead looking forward to spending her remaining years with her family and grandchildren.
In memory of Franklin, let's look back at some of her best quotes.
1. On Knowing Her Role
Franklin understood that given her fame, she also had a responsibility to be a good role model, and to give something back to the world. According to Smooth Radio, she once said:
Being the Queen is not all about singing, and being a diva is not all about singing. It has much to do with your service to people. And your social contributions to your community and your civic contributions as well.
2. On Doing What She Loves
Top10best.com reported that Franklin not only loved what she did, but loved that her fans appreciated her music as much as she loved performing it. As she once said:
I am doing what I love to do, and you cannot beat that, especially when the audience appreciates what you prepare for them. It's very, very gratifying.
3. On Breaking The Rules
Franklin became popular in a generation that was typically very conservative about music. "I've always felt that rock 'n' roll was very, very wholesome music," Quoteland.com reported she said, alluding to the misperception (and lack of acceptance) of that genre and genres similar to it.
4. On What Music Really Means
In a 2014 interview with CBC, Franklin explained her philosophy on music, and why it's so moving and important to so many people:
Music does a lot of things for a lot of people. It's transporting, for sure. It can take you right back, years back, to the very moment certain things happened in your life. It's uplifting, it's encouraging, it's strengthening.
At the time, she affirmed that she would indeed continue touring until she was no longer able, and at the time, her health was stable enough for her to do so.
5. On Her Fans
In his 2012 biography of the singer, author Mark Bego explained that Franklin realized she had to leave her troubles behind when she went on stage, otherwise, she wouldn't be able to perform as well. She said:
I sing to the realists, people who accept it like it is. I express problems. There are tears when it's sad and smiles when it's happy. It seems simple to me, but for some people, I guess feelin' takes courage.
Franklin was an icon and a legend in her field, and gave the world timeless music that will continue to play on and be remembered for years and years to come.