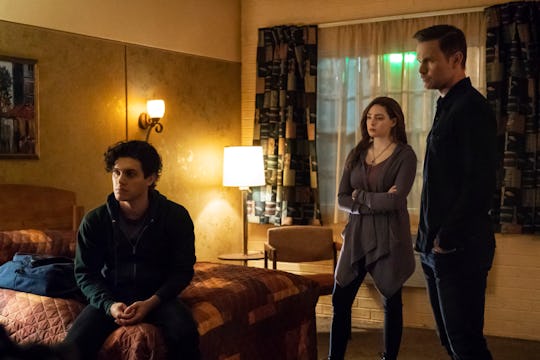 Tina Rowden/The CW
Here Are 5 Theories About Malivore That Will Make You Rethink Everything
From dragons to parasitic unicorns, Malivore is unleashing some of its best monsters on the Salvatore School, and keeps getting closer to unleashing the darkness it has imprisoned within. The magical void — which is managed by a shady agency — is connected to Landon, but its hold on him is still a mystery. Fans are piecing together clues to come up with their own Legacies theories on Malivore that could explain a lot.
So far, all fans really know about Malivore is from what Seylah and the Necromancer have told Hope and Alaric. In Episode 7, the Necromance tells Hope that Malivore was "created to wipe the scourge of the supernatural" off of the Earth completely. "Malivore consumed us, erased us," he tells her. "It was permanent death and it was in Malivore that we were left to perish, until recently, when the knife started beckoning us to bring it home." He also tells Hope that Malivore was shut by "three locks" created to seal it — the knife being one of them — and that when all three locks are destroyed, Malivore will free the evil creatures it's imprisoned.
In Episode 8, Landon's mom, Seylah tells Alaric (who later tells Hope) that she was once charged with sending supernaturals to Malivore, but ended up there herself. She told him that she ended up in Malivore herself, and while she just remembers it as a black void, she somehow came out of Malivore pregnant with Landon.
So is Landon's biological dad a Malivore creature? What's the deal with this agency that is in charge of it? Here are some of the coolest Malivore theories fans have come up with so far: