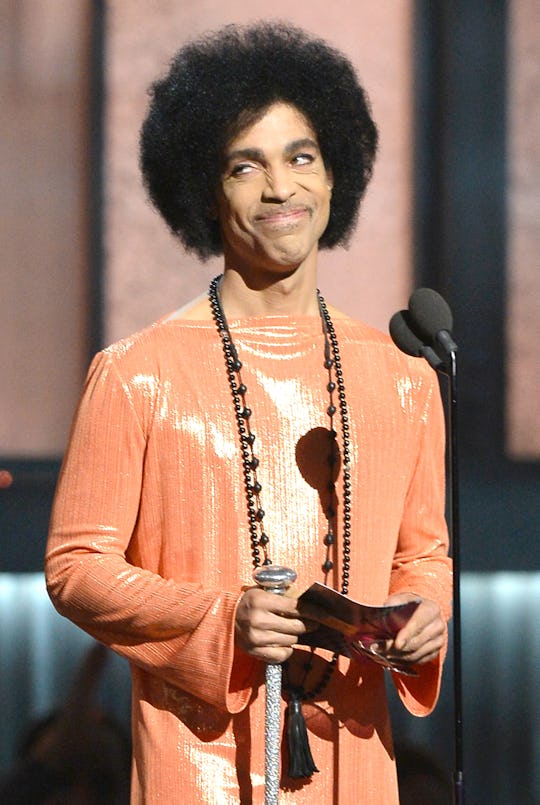 Kevork Djansezian/Getty Images Entertainment/Getty Images
5 Lessons Prince Taught Us About Sex, Because He Really Was The Love Symbol
Pop icon Prince was found dead on Thursday at 57. In his decades as a musician, he created an impressive body of work that managed to be both wildly popular and powerfully subversive. Many elements of Prince's life and career are unforgettable: his bold fashion choices, his Minneapolis Sound, and, of course, the lessons Prince taught us about sex.
Police arrived at Prince's Paisley Park studios on Thursday morning in response to an emergency call, CNN reported. They found the musician in an elevator and were unable to revive him. Reports of Prince feeling unwell surfaced the week before his death when he canceled a performance in Atlanta. He appeared to be feeling better at a performance days later, but his condition deteriorated during a flight and his plane made an emergency landing so he could seek treatment in Moline, Illinois. His publicist initially said Prince was doing "fine" and recovering at home; no one was prepared for the news of his death this week.
Fans have paid tribute in every possible way: his Instagram page was nearly shut down from traffic, fans were rushing vinyl stores around the country to get copies of his most famous albums, and Twitter was overwhelmed with messages about the musician and his talent. It's clear that Prince will not be forgotten anytime soon, and neither will his messages about love or — especially — sex. Here are some of the things Prince taught fans about sex.
It's Okay To Be Yourself In Bed
Sex can be profoundly moving, but exploration isn't always encouraged. A sexual self-concept is often shaped by noted taboos, unspoken rules, and social expectations. In an article for The Artifice, Jesse Munoz wrote that Prince encouraged true freedom and individual expression in the bedroom, as exemplified by the lyrics of "Uptown" from his 1980 album, Dirty Mind:
Where I come from
We don't let society
Tell us how it's supposed to be …
Everybody's going uptown.
It's where I wanna be.
Uptown, set your mind free.
Munoz described the song as an anthem:
Prince equates sexual freedom with individual freedom– the freedom to be one's own person, unbound from the rules dictated by society at large. Uptown is Prince's Utopia.
After all, sex is much more enjoyable when you're doing what you want with someone you really like; going "by the book" isn't required.
Women Can (And Should) Be Sexually Empowered
BuzzFeed contributor Nichole Perkins wrote a 2015 essay, "How Prince Taught Me About Female Sexuality." In it, she shared that her discovery of Prince's music as a kid taught her to own her sexuality:
His music shaped my own sexuality because it helped me realize there are men who enjoy being submissive to women, that there are men who are willing to admit to helplessness during sex, and that being a woman who's more sexually experienced than a man isn't something to hide or being ashamed of.
It's not unusual for women to let men take the lead, but Prince showed that the opposite arrangement could actually be desirable.
Sex Is Meant To Be Mutually Satisfying
Sex can be disappointingly one-sided. Prince is often concerned just as much with a woman's pleasure as he is with his own; his own desire for sex is often matched by his desire to give his partner what they want. He sings about it on his 1989 single, "Scandalous":
Anything U've ever dreamed of
I'm willing 2 be
2 night it's gonna be scandalous
Cuz 2 night I'm gonna be your fantasy
Prince made it clear that it's important for individuals to be clear about what they hope to get out of a sexual encounter; it is possible for both people to leave happy.
Talking About Sex Ensures That Everyone Stays Safe
Unfortunately, the messages in Prince's music weren't always ideal. Perkins tackled the topic directly in her essay:
As much as Prince's music gave me permission to accept my own sexual maturity, his discography is not without issue. Sometimes he is flat-out hypocritical and misogynistic.
Perkins used "Xtraloveable" as an example:
Prince moves from seduction to rape, and it's jarring. Here, his usual submissive role is gone and replaced with an overly aggressive one. One moment, the song's persona is happy that his lover makes him wait, and the next he's threatening rape because she doesn't respond to his advances quickly enough.
"Xtraloveable" shows how one person can hold deeply conflicting views of what's OK and not OK in the bedroom. It's a reminder of how important it is to be on the same page with one's partner and to set clear boundaries, but it also reinforces the importance of sustaining a public conversation about consent. Allowing songs such as "Xtraloveable" to exist without scrutiny is dangerous.
You Are Not Your Sexuality
Celebrity culture often allows for narrow characterizations. When a woman is thought to be overly sexual, she is easily deemed a "slut"; all subsequent behavior, then, is viewed through that lens. Prince built his career on embracing sexuality, but he did not allow that sexuality to dictate his behavior. A 1984 article in People highlighted the dichotomy of Prince's public persona:
Onstage, at his most outrageous, he has writhed atop a stack of speakers in nothing more than bikini briefs, leg warmers and a layer of sweat. Yet he covered up with a '30s-style tank suit when he went swimming at his hometown Y.
Prince's behavior served as a reminder that just as one should be encouraged to embrace sexuality, one doesn't have to embrace it all the time. Allowing public image or external expectations to dictate one's choices is a sacrifice of personal power. Prince was a practicing Jehovah's Witness, according to TIME; in his life and his music, liberation and conservatism coexisted. It's evidence that one can escape the pressures of a label and avoid being boxed in.
Prince's lyrics weren't perfect, but there's no doubt that he taught generations of fans how to be open to exploring their own sexuality. He showed the world that pleasure isn't something to fear, that sex can be freeing, and that vulnerability is genuinely empowering.