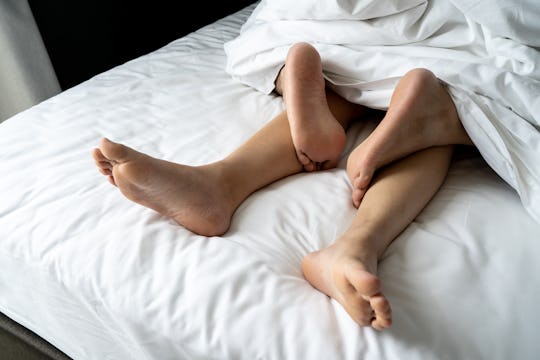 Shutterstock
If You're Trying To Conceive, These 5 Lubricants Are All Safe & Slippery Options
Friends, today's topic might make some of you uncomfortable. We're talking about lube. Yup, that's right: lube. I'm going to use the word a lot, so just go ahead and get used to it now. Lube, lube, lube. It's slippery, sometimes sticky, and is also one of the best inventions for enhancing sexual pleasure. But not all lubricants are created equal, particularly when you're trying to make a baby. So which are the safest lubricants to use when you're trying to conceive?
I'll be honest, I didn't use any lubrication in the conception of my offspring, so I didn't realize that some lubes aren't recommended for baby-making purposes. That's due to how some ingredients in them (such as petroleum, propylene glycol and nonoxynol-9) might interfere with the mobility of sperm, Dr. Jessica Shepherd, OB/GYN and women's health expert, tells Romper in an email.
Still, Dr. Shepherd wants to make sure couples don't shy away from using lube "because they think that lube will either decrease the chances of getting pregnant or that it is a problem if a woman needs lube during intercourse." It's all about finding one that doesn't interfere with those little swimmers, and thankfully she says that lube has made great strides in this regard.
So, whether it's your first lube rodeo (ooh, a lube rodeo, that sounds fun!) or not, you can use the five lubricants below during all your efforts to conceive. I'm cheering you, and those sperm, along the entire way.