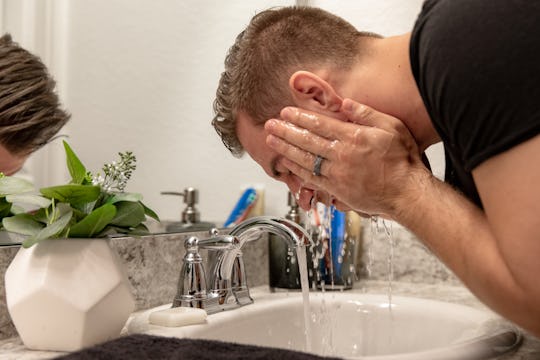 Megan Mahoney Photography/Shutterstock
5 Male Grooming Habits Women Should Actually Be Doing Too
If you want to consider some new hair and skincare techniques, just take a note or two from the dudes. There are a few male grooming techniques females can also use, even if trying them out may feel a bit unconventional. Honestly, though, the shaving tips alone are worthwhile.
To be honest, I've always found the male grooming rituals a bit intriguing. There's something calming about a guy going about the daily face shave, from the first splash of hot tap water to the final spritz of aftershave. It's a little reminder that everyone likes a moment to chill and pamper themselves during the day.
Moreover, though, a lot of these tips are just cool because they work. So to learn more about these grooming tips borrowed from the boys, Romper spoke with a health and wellness expert, a celebrity aesthetician, and even a rep from one of Europe's most famous makeup schools. When it comes to skin and hair health, these people know what's best. In general, some little tweaks to your beauty routine can have big benefits for your overall hair and skincare. Read on to learn more about the beauty rituals that are actually pretty great for all humans.