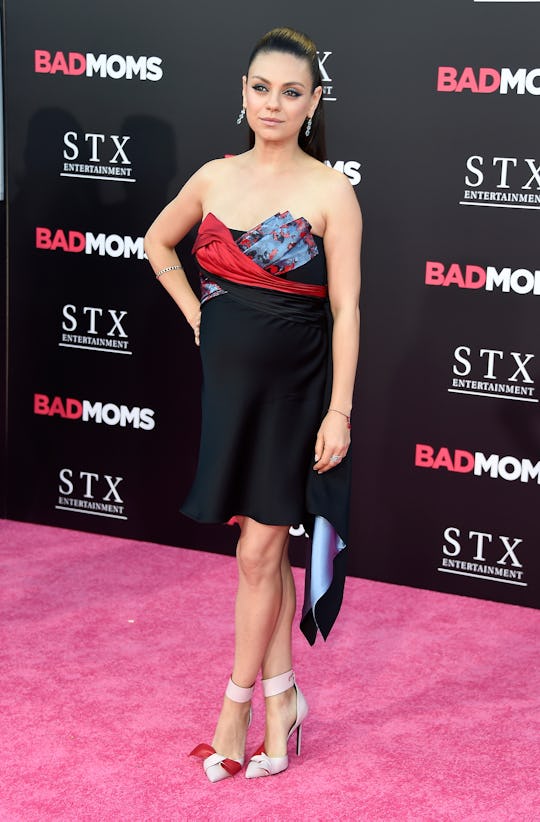 Frazer Harrison/Getty Images Entertainment/Getty Images
5 Mila Kunis Quotes From Her Essay That Perfectly Describe Workplace Sexism Everywhere
The existence of gender discrimination in Hollywood is well established. From a lack of opportunity for female directors to the pay inequities experienced by even the highest-paid actresses gracing the silver screen, such pervasive issues have increasingly been in the spotlight in recent years — thanks to some of Tinseltown's biggest names. Stars like Patricia Arquette, Viola Davis, and Jennifer Lawrence are speaking out on the red carpet, using award acceptance speeches to promote the idea of equal pay (and power) on movie sets, and penning powerful essays exposing what it's really like to work in La-La Land. Actress and producer Mila Kunis this week became the latest celeb to join the fray, calling out an (unnamed) male producer who told her "You'll never work in this town again" after she refused to pose half-naked for a men's magazine to promote a film. Below are five Mila Kunis quotes from her essay — published on husband Ashton Kutcher's website — that perfectly describe workplace sexism not just in Hollywood, but everywhere.
What's especially noteworthy about Kunis' article is how she recognizes her own privilege in knowingly calling attention to these problems without fear of serious repercussions. Whatever backlash might result from her speaking up, it won't impede her ability to provide for her family, providing her a kind of freedom not often experienced by regular working women. Bravo, Kunis!
"Throughout my career, there have been moments when I have been insulted, sidelined, paid less, creatively ignored, and otherwise diminished based on my gender."
We've all been there, right? You're expressing an idea during a meeting at work, only to be interrupted by a male colleague who somehow claims the idea as his own and runs with it. The New York Times once described an example involving two female TV writers working on The Shield, whose producer had encouraged them to speak up more often.
"It's what we are conditioned to believe — that if we speak up, our livelihoods will be threatened; that standing our ground will lead to our demise. "
A 2015 study by authors Joseph Grenny and David Maxfield revealed that women's perceived competency decreases by 35 percent — and their perceived worth drops by $15,088 — when they're deemed "forceful" or "assertive." For men described similarly, those numbers were 22 percent and $6,547.
"I taught myself that to succeed as a woman in this industry I had to play by the rules of the boy's club."
Not anymore! As noted in her essay, in 2014 Kunis started a production company with three other women, and they've been "hustling to develop quality television shows with unique voices and perspectives." When pitching a show to a major network, one of its producers wrote this in an email chain, according to Yahoo!:
And Mila is a mega star. One of biggest actors in Hollywood and soon to be Ashton's wife and baby momma!!!
Kunis' company, Orchard Farm Productions, ended up withdrawing its involvement in the project.
"Subtle gender bias is oftentimes nearly imperceptible, and even wholly undetectable to those who share the bias."
And guess what? Gender bias isn't something that afflicts only men. In studies on gender bias and creativity conducted at Duke University, even women associated creativity with so-called "masculine" traits. When evaluating a house design, both men and women rated its creativity higher after being told the architect was a man.
"... The pay gap is but one clear quantification of the acute undervaluing of the contributions of women in the workplace."
In her essay, Kunis cites a recent study by the American Association of University Women that shows it will be another 136 years before women are paid equally to men (and that's white women). That's right, the wage gap won't close until 2152, as long as progress continues at its currently (slow) rate. Scary, isn't it?