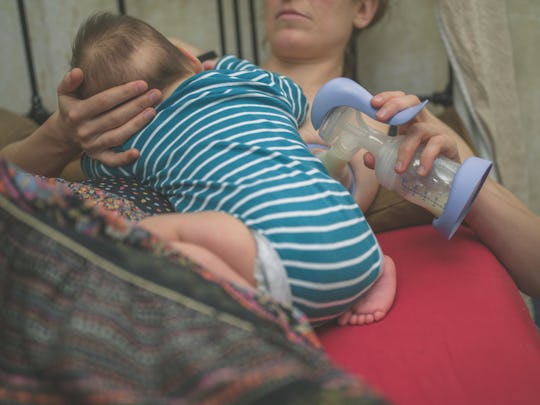 LoloStock/Fotolia
5 Mistakes You Can Make While Breastfeeding & Pumping At The Same Time
It's no secret that motherhood is a constant and relentless juggling act. s a result, many moms arm themselves with multitasking techniques that they daily. This is especially true for breastfeeding moms, who are the queens of parenthood pony tricks. They can feed their kid or pump while eating their lunch, typing up a work presentation, or marathoning Netflix. It's no surprise then that mothers have also embraced multitasking when it comes to feeding their kid and stockpiling their milk. And if you're thinking of embarking on this yourself, you should know about the mistakes you can make while breastfeeding and pumping at the same time.
Breastfeeding and pumping simultaneously is a concept that's picked up in popularity over the past couple of years. It's not hard to see why it's gained momentum lately, especially with the introduction of hands-free breast pumps and the ever growing to-do lists of today's modern parent. No one will sugar coat it for you — breastfeeding and pumping simultaneously is certainly a tricky endeavor, but a huge time saver if you can get it right.
Whether you're a breastfeeding mom considering it or a curious mom-to-be, breastfeeding and pumping can look kind of intimidating at first. But with practice, patience, and a few helpful tips you'll be a pro in no time. Here are five common mistakes to watch out for if you plan on breastfeeding and pumping simultaneously, that could really hinder the process.