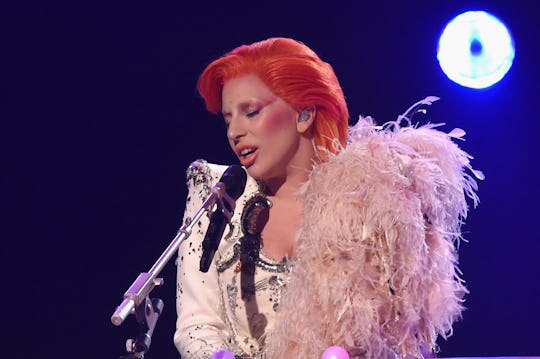 Larry Busacca/Getty Images Entertainment
5 Moments In Lady Gaga's David Bowie Tribute That Would Make The Starman Proud
During the 58th Annual Grammy Awards, Lady Gaga took to the stage to present a David Bowie tribute. Taking on a tribute to one of the world's most well-respected musicians is no easy feat, especially so soon after he passed away. But Lady Gaga embodied Bowie's spirit so perfectly that I don't think anyone could say a word against it. In fact, there were 5 great moments in Lady Gaga's David Bowie tribute that would have made Bowie himself proud.
Gaga certainly didn't skimp on the performance. Her outfit, complete with orange-red hair dye, channeled Bowie's Aladdin Sane album cover, while her make-up harkened to his "Life on Mars" days. Gaga also managed to capture Bowie's eclectic being in everything from her way of singing to her dance moves. If anyone but Bowie had to be up there singing his songs and performing for the crowd, Gaga was the best choice.
Before the Grammys, the president of the National Academy of Recording Arts and Sciences, Neil Portnoy, told E!, "There's some very exciting brand new technology that's never been seen on television that will be a part of the segment." But I don't think anyone could have predicted how well that technology would merge art and music, making Gaga's performance a live piece of moving art.
The Lightning Bolt Emerged As Gaga Sang "Space Oddity"
Gaga Played Piano Impressively As She Belted It Out
Those Moves Were Way Too Bowie
Lady Gaga's "Heroes" Segment Was On Point
This Live Art — With Doves — Was Perfect(ly Strange)
"His influence is also a magic trick. People don't even realize how much they're influenced by him until they really take a closer look," Gaga told Mashable before the Grammys. She said Bowie is "everywhere":
I want people to be fully immersed in the experience of him, because when I fell in love with him, as a fan, I didn't just love him and his music. I didn't just buy his records. I lived the lifestyle that he lived. I became like him, I dressed like him. I worshipped him. I read the materials of his life. That is the fully immersive experience. That's what makes a superfan. I want people to have the experience of being a David Bowie superfan, because that's a wonderful thing.
Overall, the entire performance was colorful, lively, vivid, and bursting at the seams with personality. If Bowie were here, I don't think he could be any prouder of Gaga, the love she channeled into that performance, and the legacy of his influence on several generations of musicians.