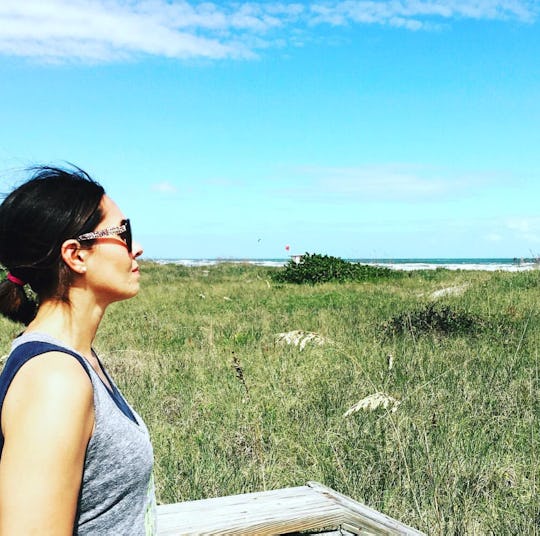 Courtesy of Candace Ganger
5 Moms On Surviving Sexual Assault & Why They're Speaking Out Now
(Trigger warning: this post contains descriptions of an alleged incident of sexual assault that some readers may find troubling.)
If I close my eyes, I still feel the sour stench of warm breath from the "friend" who towered over me, whispering, "You know, I could f*ck you if I wanted to." It's an imprisoned echo, bouncing around in some chamber of my mind, triggered by another story of another man on a power trip, like the recent news of sexual assault allegations against Hollywood mogul and film producer, Harvey Weinstein, wherein over 30 women have now come forward alleging over 30 years of sexual assault, rape, and harassment. Some victims choose to speak out, and their bravery should be applauded. But others, like myself, remain silent for fear of financial or social repercussions, inescapable career-level power imbalances, guilt, shame, or the fact that more often than not victims are questioned, judged, and ostracized while the alleged abusers walk away, unscathed. According to the Rape, Abuse & Incest National Network (RAINN), for every 1,000 rapes, 994 perpetrators walk away.
In the wake of the #metoo movement — started by activist, Tarana Burke 10 years ago, and amplified recently by actress Alyssa Milano — that drew attention to just how many women have been on the receiving end of someone's disillusioned power, I am thinking of those who cannot bring themselves, for a number of valid reasons, to speak out and share their stories of unimaginable trauma. Women who, like me, have stayed silent. Women who are now, empowered by the stories of others, are willing to speak out for the very first time. Women like me.
I don't remember what stopped my "friend" in the basement of his parents' house that day. I know he could have done more damage, but make no mistake: the damage was done. His arrogance mocked me minutes later, as he told me to pull my pants up and "go home," and all the while I wondered how someone I considered a "friend" could be capable of something so heinous. More than that, I hated myself for not stopping him and forever blaming myself for being in a situation where that could happen.
I left shaken and drove to another friend's house immediately, confused as to what had occurred and desperate to settle back into something normal. I was torn between telling someone where the blood on my pants came from and pretending it never happened, and there was no rule book for how to deal. It didn't matter how I was dressed — jeans, a long-sleeved shirt, and a zipped puffy coat — because I know now it had nothing to do with me. It was, is, and always will be, about power. And in those terrifying moments, he had it.
I've never spoken at length about what happened that winter day, because it's taken nearly 20 years to acknowledge I wasn't asking for it, I didn't deserve it, and in no way was this a consensual act between two people. What happened was his doing, and his alone. And yet, because of the way rape culture perpetuates the cycle of abuse, he never experienced the consequences of his actions.
Even though pieces of me still haven't yet healed, I hope to model the power of actions, and words, for my children. My assailant may have had the power then, but in telling my truth now I'm taking some of that power back. I'm not alone, and if you've been through it, neither are you. And while #metoo raises awareness, we need to take pressure off victims telling their stories and, instead, start laying blame on the ones who created the pain. So with that in mind, here's what other moms have to say about their own sexual assault, and why they're speaking out now: