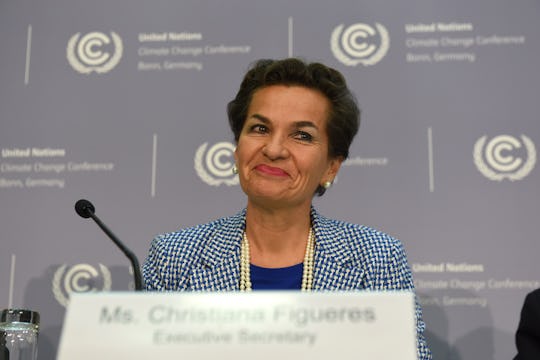 PATRIK STOLLARZ/AFP/Getty Images
5 Moms On 'TIME's 100 Most Influential People List That You Should Know
Every year the world is faced with new challenges, aspirations, injustices, needs, and desires, and every year inspiring people rise to those occasions. Though not exhaustive, the TIME Most Influential People list honors those individuals who have made some mark in the past year and throughout their lifetime. There's a special subset of this list who should get some extra asterisk of recognition: the moms. Being a mom is hard work, and juggling that plus being a major world mover and shaker is incredibly impressive and inspiring. Let's tip our hats to them; here are 5 moms on TIME's 100 most influential people list that you should know.
This year, TIME is doing something a little different. The magazine released six black and white covers, all different, to newsstands. So, depending on when you go, you may see Leonardo DiCaprio on the cover, or Nicki Minaj, or Lin-Manuel Miranda, or Priyanka Chopra, or Christine Lagarde, or Priscilla Chan and Mark Zuckerberg. As readers peruse the list, they'll see that each person's section is written by someone who knows and admires them, which gives it a special intimacy. The list is divided into the categories "titans," "pioneers," "artists," "leaders," and "icons," but here is a selection of people who also fit another category: moms.
Hope Jahren
Hope Jahren is a woman of many talents. She's a professor at the University of Hawaii in Manoa, a geobiologist who's groundbreaking work examines the evolution of germination and fossilized plants, and she's used her renown in the science community to further the discussion about discrimination and sexual harassment in science. She's written a bestselling memoir called Lab Girl, which looks back on her impressive career. It's part investigation, part love note to science, part call to action, part meditation, part poetry, part heartbreaker, and part knee-slapper. She's an active voice on social media. On her writer's website, she wrote briefly, and hilariously, about the overcoming feelings of motherhood:
I have a son and I can say with absolute objectivity that he is the smartest, strongest and most beautiful child that has ever lived only it's hard to talk with all these biochemicals flooding my brain.
Taraji P. Henson
Taraji P. Henson has rocketed to fame in her role as Cookie in Empire. Prior to that, she was relatively unknown and under-appreciated in Hollywood, despite a long and varied career. She has made appearances in Sister, Sister (yes, that Sister, Sister), CSI, Murder She Wrote, House, and she has hosted Saturday Night Live. She's known for her incredibly expressive face and her range as an actor. She has one son, Marcel Johnson, who famously took to Instagram to say, "A mother's job is not easy and neither is a police officer's." She is an outspoken champion of women and women of color in the entertainment industry.
Kathleen Kennedy
With all the press this year about inequality in Hollywood, the story of Kathleen Kennedy feels like a beacon of hope for the future — a sign of better things to come. She moved up the ranks in Hollywood from being a camera operator to Steven Spielberg's secretary, to his co-producer, to, now, the head of Lucasfilm as it moves into the next installment of the Star Wars saga. She's been defined by her tenacity, inventiveness, modesty, and tendency to eschew expectations for roles, jobs, and genres. With her husband, who is also a producer, she has two daughters.
Jaha Dukureh
Jaha Dukureh is an activist who is directly motivated by her role as a mother. When she was a child she was a victim of female genital mutilation (FGM), and she's on a mission to stop it from happening to anyone else. She lives in Atlanta, where she founded Safe Hands For Girls, which fights FGM in the United States and abroad. In her TIME biography, she was quoted speaking about her children:
I don't want them to have to face the challenges I did, whether it's early marriage or FGM. I don't want them to have to live in fear. I don't want any girl to ever feel that way.
Christiana Figueres
Christiana Figueres is a Costa Rican diplomat who served as the executive secretary of the UN Framework Convention on Climate Change. She was a major driving force behind the agreement at the Paris climate talks last year. It was an ambitious goal to involve so many countries and hold them to such high standards (the highest in history, in fact), and that success was the result of six years of unrelenting advocacy and policy work on her part. After an impressive early career, Figueres took many years away from her work to dedicate herself to raising her two daughters, Naima and Yihana. She then re-entered her professional life, dedicating herself to organizational leadership and environmental activism, and securing her place as an inspiring woman in public service.
This list, unfortunately, does not include all of the mother's on TIME's 100 Most Influential roundup, nor does it include the countless other unsung mothers who strive and inspire every day. But these women, no matter their field, are a great example to people everywhere that the definition of modern womanhood is boundless.