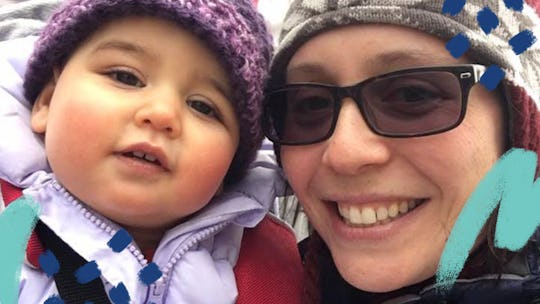 Photo: Courtesy of Portia Brodie Zwicker; Design: Mary Blount/Romper.
5 Moms Reveal What Parenting Rules They Choose Not…
My son is approaching his second birthday, and as he gears up for such a huge milestone (terrible twos, here we come), I can't help but think about how much I've grown as his mom over the same amount of time. As a new parent, I was inundated with a million different definitions of what was the "right" way to raise my son, and the information overload paired with the immense pressure I felt to be the perfect mom to my little boy was completely overwhelming.
As a result, I've had to teach myself to set firm boundaries about who I trust for information, and which resources are right for me when I have a question about my son's wellbeing. Parenthood is hard at any stage, but it can feel especially difficult the first time around when you're experiencing a huge learning curve, and there are very well going to be some "rules" that you'll want to pretend like you never even heard to begin with. That's why we've partnered with Baby Dove to talk to five moms about the parenting rules they're actively choosing not to follow. It isn't always easy, but it's always worth it to stand up for your right to choose how to raise your child, and these inspiring moms are living proof: